Updated December 2020
---
If you're reading this article, we're guessing that, for some reason or other, you're checking out Skype alternatives for your business. There are plenty of reasons why Skype might not be for you, and that's okay! The video conferencing game isn't one-size-fits-all, especially when it comes to small businesses.
One of the hardest parts of choosing the best video conferencing software for your business is the research. With so many video conferencing tools out there, how do you know which one is going to really meet your needs and align with your business goals?
Don't sweat it; we dug in and did the research so you don't have to! In this article, we've taken a comprehensive approach to examine and rank eight Skype alternatives for your business. And who knows? Your new favorite video meeting app just might be on the list. 
Keep reading to learn:
---
🛒  Shopping for a video conferencing tool? (Or just curious about what to look for?) Grab the free checklist to help you choose the right one for your team or business.
---
How to choose the best Skype alternative 
Let's compare your search to buying a house. You're not going to commit to the first house you see, just because it looks nice from the outside, right? It's important to test the waters before introducing a new tool into your company's tech stack. You don't want to waste everyone's time getting them signed up, only to find that it doesn't do what you need it to!
There are countless video conferencing tools on the market and, unfortunately, it's not a one-size-fits-all situation. In today's digital world, a high-quality video conferencing platform should do more than facilitate face-to-face contact. Whether you want a tool that facilitates quick one-on-one chats, team meetings, webinars, or business-wide conferences; there's a solution out there for you. 
What's more, the solution you choose should help you to turn face-time into collaboration time. As many businesses turn to remote work, virtual collaboration is crucial to employee satisfaction, team productivity, and business success. 
10 essential features to look for in a video conferencing app
To help you in your search for Skype alternatives, let's take a look at some of the key features a robust video conferencing platform should provide. 
Affordability:

What's the overall cost of the service? Is there a free plan available or an affordable enterprise solution, so it will scale with you as your business grows?

Ease of use:

Is the tool easy to use, even for those non-technical people on the team? Will it require endless hours of training to ensure everyone knows how to use it?

Voice and video calling:

Does it provide high-definition voice and video calling that can uphold your professionalism and keep teams connected?

Collaboration features:

Are there collaboration features incorporated to improve team productivity? We're talking: team messaging, file sharing, call recording, screen sharing, etc. 

Scheduling:

Improve productivity and enhance accountability with your calendar and email for up-to-date scheduling. This way, no one will miss a meeting!

Software integrations:

Can you connect your calendars and other important tools to the app to streamline your day?

Supports multiple devices:

A good

video conferencing

solution should support multiple operating systems and devices. Anyone you arrange a meeting with should be able to access it on a Mac, Windows laptop, or devices for mobile apps.

Security:

You want to ensure your meetings aren't interrupted and your conversations stay between the team members involved.

Moderator tools:

These tools allow the host to mute and unmute participants, put attendees on hold, and control who can access virtual whiteboards and screen sharing. 

Reliability:

Regardless of all the fancy features and extra tools the solution provides, if it isn't reliable, then it's just not going to work. 
A good alternative to Skype should provide the same key features as Skype itself, and then some. We've selected a variety of platforms that offer all the important functions, as well as some extra features for improved collaboration and communication. 
Some are suited for small and medium businesses (SMBs), while others are more adapted to handle larger business groups.
So, without further ado let's dive in with number one on our list of Skype alternatives: our very own video conferencing and team collaboration tool: Glip.
8 best Skype alternatives  
1. Glip (by RingCentral): Best overall features and value
Glip by RingCentral is our top choice among Skype alternatives, and it's not because we're biased! Glip offers integrated team chat, high-def voice and video calling, and task management tools for keeping remote teams productive and connected any time, anywhere.
Oh, and did we mention Glip Pro is totally free? 
Let's take a closer look at why RingCentral takes the cake when it comes to Voice-over-Internet-Protocol (VoIP) communications platforms.  
Powerful video conferencing
Glip's free video calling features are ideal for keeping remote teams connected and working together efficiently and effectively. Simply tap a button, start the call, and chat face-to-face in real time from any desktop or mobile device. You can also turn off the camera for crystal-clear voice calls from anywhere and switch between devices, mid-meeting, with one click.
At RingCentral, we believe that distance doesn't have to mean disconnection, which is why we promise high-quality free video conferencing with added features like:
Screen share with annotations

In-conference text chat

No-download video conferencing for guests: join via any browser

Meeting recording and storage
Communication is often one of the biggest barriers to success among remote teams. Video saves time and prevents unnecessary frustrations by providing space for team members to talk face-to-face. Whether it's to collaborate on projects, resolve issues, or take part in team-building sessions, video chats make remote teamwork happen. 
Real-time teamwork
As more and more businesses operate with hybrid or fully remote workforces, adapting to virtual cooperation and communication methods is essential. Glip provides users with a unified, cloud-based workspace where they can share unlimited files, store them, and stay updated with edits from any device. What's more, Glip team messaging ensures colleagues can communicate instantly with an intuitive text chat app, whether it's one-on-one or in teams.
Sophisticated task management
What sets Glip a step (okay, a few steps) above similar VoIP communications platforms like Skype is its sophisticated task management features. 
Glip provides project management functionality by allowing users to assign, share, and track tasks across teams. What's more, you can create project teams, themes, and departments for better organization and accountability. 
Work smarter, together… for free 
Glip Pro is available for free, with all the essential features provided by Skype and many more. You can host unlimited video calls for conducting team meetings, discussing ideas, or hosting team building activities. Plus, meetings can last up to 24 hours! Say goodbye to those 40-, 50-, or 60-minute meeting caps you find on other free video apps.
Need a little more power in your platform? Glip Pro+, the paid plan, comes with lots more video storage capacity, a suite of helpful administrative tools, 24/7 live support, and more.  
Why is Glip a great alternative to Skype?
It's robust, reliable, and chock-full of features that'll enhance your team's productivity and take the hassle out of remote cooperation. Along with reliable HD video meetings, Glip provides:
HD-quality voice calls and screen sharing

One-to-one and group chat, and

real-time video conferencing

for up to 100 participants

24-hour meeting duration

Call recording stored in the cloud

Simple mobile phone and desktop app ideal for remote teams

Team messaging and collaboration tools

Email and calendar integrations for scheduling

One-click video conferencing for guests, no software download required

File sharing, storage, and annotation
🚀Free unlimited video meetings. Really.
2. Google Meet (formerly Google Hangouts): Best app for Google Workplace (formerly G Suite) users
Google Meet is another popular alternative to Skype that offers most, if not all, of the same features. Teams can communicate and collaborate via high-definition video meetings, phone calls, and instant messaging. 
With the free plan, video meetings and conferences can support up to 100 participants for unlimited meetings of up to 60 minutes per call. Some top features of Meet that make it a great Skype alternative for businesses include:
Real-time captioning

Screen share and presentations for better collaboration

File sharing

Chat feature

Scheduling with Google Calendar and Gmail plugin

Recording options (enterprise plan)

Ability to dial in to a video conference via phone (enterprise plan)
Google Meet is a great option for businesses already investing in Google Workplace. However, it does come with some downsides. Unlike RingCentral Glip's browser-accessible meetings, Meet does require a Google account for access. This might be a pain for external clients who use another email platform (Outlook, for example, is still really popular in the business sphere). 
Plus, some customers have complained about the quality of the video feature, most notably the video freezing on the desktop app, which could impact the professionalism of your business on important calls.
Oh, and before we forget, Glip by RingCentral integrates with Gmail and Google Workspace, so you can have the powerful HD conferencing experience alongside your favorite Google products.
3. Microsoft Teams: Best for Microsoft 365 users 
Microsoft Teams is slowly replacing Skype for Business, as it allows users to manage employee accounts with enterprise-grade security, as well as integrations with Office apps. 
Microsoft Teams is a chat-based workspace in Microsoft 365. It lets users chat, host audio calls and video conferences, and share files, all with enterprise-grade security. Teams use channels to organize information, which is a top feature for improving team productivity and focus when cooperating on projects. 
The Teams video calling feature is more robust than Skype's and can support up to 10,000 users wherever, whenever. What's more, the VoIP service is more tolerable than other solutions and only requires a minimum of 1.2 Mbps for a smooth audio/video experience.
Like Glip, Microsoft Teams offers third-party app plugins for a more comprehensive experience. By integrating with familiar productivity, project management, and industry-specific tools, teams can improve efficiency, streamline workflows, and facilitate comprehensive communication across co-located and remote teams. 
So are there any drawbacks to Microsoft Teams? According to Tech Radar, OneDrive, Microsoft's cloud storage service, might lack the polish of other similar services and doesn't always feel intuitive or easy to navigate. This can be a real time-waster when getting your team ready to roll. You might find Glip's file-organizing features more intuitive find your shared documents more easily. It also seems RingCentral's seven layers of security are the ones to beat, with Microsoft coming in at five layers of protection.
4. Zoom: For small teams on small budgets
Zoom became hugely popular in 2020 in light of the global shift to remote work, as a result of COVID-19. It was so overused that it resulted in the coinage of its own effect: "Zoom fatigue"! 
It's one of the most widely used group call apps and is a reliable solution for businesses hosting video meetings and virtual team-building activities to bring remote teams together.
Compared to RingCentral Glip, Zoom is limited in terms of chat capabilities, in that it's only possible during live calls. It also lacks other team collaboration features Glip offers for free like file sharing and storage, task tracking, and even creation. Like Glip, however, external guests can join Zoom calls from a browser without any download. Learn more about the differences between Glip and Zoom. 
While Zoom has lots of great features, it might not be technically robust enough for your business use, especially the free tier. Zoom's free platform only allows meetings for 40 minutes, which could hinder conversations on important topics. There have also been issues with security and Zoombombing, which is when an uninvited guest joins your meeting. Plus, the larger meetings for the free version don't use HD video (unlike competitors such as Glip by RingCentral), and that can cause issues with screen freezing and time-lag. In a meeting capped at 40 minutes, that sort of thing can waste a lot of valuable time.
5. Viber: Great for mobile compatibility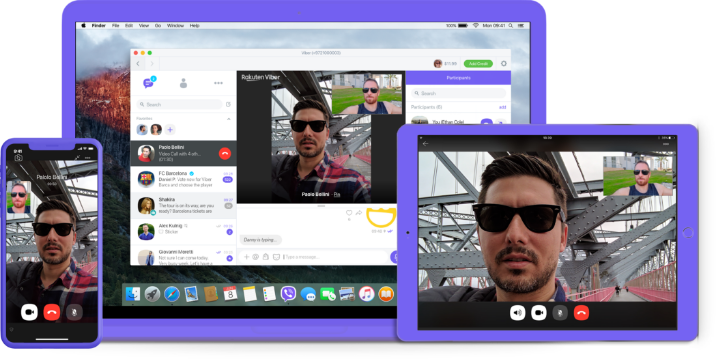 Viber is a comprehensive meeting platform that closely resembles Skype and provides VoIP functionality, instant messaging, and file transfer. It's also possible to make outbound calls to mobiles and landlines for a fee using Viber Out. It works across a variety of platforms and devices including Windows, macOS, Linux, iOS, and Android.
Viber video calling with screen sharing is a great feature for conducting team meetings and working together on projects with dispersed and remote teams. It also provides the usual selection of gifs, emojis, and stickers (albeit strange-looking ones) and is "ad lite," so the ads are there, but they aren't too intrusive. 
The major difference between Viber and Skype? Viber requires your phone number, and you need a smartphone to create an account. If you don't have a working smartphone, you won't be able to use Viber. It also doesn't offer comprehensive project management features, unlike RingCentral Glip's free and paid options.
6. Whatsapp: Best for small, close-knit teams
Whatsapp is a hugely popular communication platform that makes a good alternative to Skype, but does have its limits. 
Whatsapp was initially released as a messaging app. However, it has expanded to accommodate free calls, video chats, voice and video messages, and file sharing, which is why some businesses have adopted the platform as a customer care channel.
Whatsapp allows you to set up chat groups of up to 250 people. However, video conferencing is limited to four people. There's also a Whatsapp business API solution allowing clients to use a digital customer interactions platform to reach more customers.
Although Whatsapp is a great one-to-one chat tool that can work as a business collaboration solution, it's best suited for personal use or—at most—for smaller teams that can benefit from swift chat, small video call groups, and instant file sharing capabilities. 
7. Jitsi Meet: Top Skype alternative for privacy
Jitsi Meet is open-source software that's geared towards users harboring bigger privacy concerns when it comes to their communications. It offers voice and video calls that are both encrypted for security, as well as a chat feature with optional encryption. 
If you're an SMB or a large enterprise, Jitsi can work for you. With unlimited video chat participants, simple conversation initiation, and no sign up required, it's a great solution for small businesses seeking a free solution. It still comes with premium functions like screen share, recording features, and tile view, too. 
The downsides to Jitsi Meet? It's a basic platform that focuses on providing video conferencing solutions alone. If you're looking for a more robust, all-in-one platform for remote meetings and team collaboration, we recommend another solution with more comprehensive functionality like Glip by RingCentral. 
8. Slack: Best selection of integrations
Slack debuted as a chat tool that facilitated one-to-one and group chats. It was a trendy solution that kept co-located teams connected across the office. Now, it's evolved to accommodate video chats and file sharing, for more comprehensive and diverse communication in a remote world.
Slack is a great option for businesses that need to work together across different channels, as it offers countless integrations with business apps (free plan: up to 10, paid plans: more than 800). What's more, it's easy to access on the go, with desktop and mobile versions that allow remote teams to stay in touch anytime, anywhere. 
The main downside to Slack, when compared to Skype? Slack only supports one-on-one video and voice chats at the free level, and only up to 15 participants at even the highest paid level. If you have a team larger than this, or you plan to grow, you'll probably need a more powerful, scalable video conferencing app in addition to Slack. 
Think that toggling between apps isn't costing you? Think again. According to recent research, employees jump between different applications over 1,000 times a day. This kind of inefficiency might seem small at first, but it adds up to time lost, tasks missed, and mistakes made.
When your video conferencing and team messaging features are all in one place, it eliminates the constant switching of gears. That could mean more focused employees and more time spent on the real work of growing your business. (Psst: Glip Pro by RingCentral is totally free and combines video calls and team collaboration in one easy-to-use app!)
Honorable mentions in video conferencing
There are so many platforms out there that are similar to Skype that we simply couldn't include them all. Some notable options we left out include:
 

FaceTime:

Great for personal use, but due to its limited range of supported devices (Apple iPhone or Macbook) and lack of group text chat, it's not well suited for business use.

Whereby (formerly appear.in)

: Quality video conferencing, but the free version only supports one user and a meeting room.

Wire:

Great collaboration platform, but it doesn't stand out due to its lack of third-party integrations.

OoVoo:

Offers plenty of free features, but doesn't compare to other solutions in terms of reliability.
Skype alternatives: Which is best for your small business? 
It's always important to check out all your options before choosing a new tool to introduce to your team. Your small business may need a reliable solution for conducting video conference calls during a period of temporary remoteness. Or, you may have realized the benefits of remote working and need a more robust tool to collaborate and communicate at a distance. Either way, there's a tool out there for you. Take advantage of free trials and demos to "try before you buy" or in the case of most of these solutions, "try before you download for free." 
We don't mean to toot our own horn, so we'll just say that RingCentral is a leading communications provider that guarantees accessibility, reliability, and scalability for your business. 
Choosing Glip by RingCentral as an alternative to Skype will empower your team with exceptional quality voice and video calling, productivity and collaboration tools, powerful integrations, and much more. 
Originally published Dec 16, 2020, updated Feb 25, 2022
Work together from anywhere, with free messaging and video conferencing—all in one app. Try Glip for free.