If you're in the market for Google Voice alternatives for your small business, this is the blog for you. 
Well, you've come to the right place. In this article, we're going to delve into the world of voice over internet protocol (otherwise known as "VoIP," which is much easier to say!) and pinpoint some of our favorite Google Voice alternatives. 
As you probably know, Google Voice is a virtual telephony service for business communications that provides telephone, voicemail, call forwarding, text messages, and voice messaging over an internet connection. 
The free service has become popular with small businesses in particular. But when it comes to growth, the tool is likely to run its course. 
But not to worry, there are plenty of alternatives out there, perfect for the job. 
Read on to learn about:
---
📱 Need video meetings with your business phone? Find out how to get the most bang for your buck with our checklist.
---
Google Voice limitations
Like many other business communication tools, Google Voice uses VoIP, requiring only a basic WiFi connection to make calls. That means there's no need for any permanent hardware such as landlines or desk phones. 
While Google Voice can be great for smaller businesses, it does have some limitations. For small businesses and startups looking to grow, it's often lacking in features needed for continued scaling. 
Some reported limitations include:
Google Voice isn't available in every country
Google Voice is only available in some regions.  As of the writing of this blog, it's available in:
US

UK

Canada

Denmark

France

Germany

Ireland

Italy

Netherlands

Portugal

Spain

Sweden

Switzerland 
Caller ID could be better
While Google Voice does have caller ID, some business users report problems with this function, particularly when using Google Voice for business from a personal phone. Calls dialed from a personal mobile phone will use your personal caller ID. 
No toll-free or vanity numbers 
Google voice does not support toll-free or vanity numbers. 
Luckily there are many VoIP alternatives better suited to business functions. As business communications providers continue to grow and innovate, more tools (with more functionality) are becoming available.
RingCentral Office®, for example, is an all-inclusive business communications solution that includes cloud-VoIP calling alongside comprehensive messaging and video tools. Now of course, you might think, we're going to highlight our own product. But read on to find out exactly why we're so confident in it.
ROI Calculator: Where can you cut business costs?
How to choose the best Google Voice alternative 
If Google Voice has stopped working for your business, it's time to rethink. But where should you start when considering an alternative? 
Your criteria should be based on your own unique business communication needs, rather than a generic list. So, before investing in a new software service, it's time to do some self-analysis. Ask yourself what features you want and how much money you're willing to part with in order to get them. 
If you're still not sure how to choose the right VoIP provider, start by identifying your operational needs. Ask yourself these questions:  
How much can your business afford to spend each month?

Do you make frequent international calls?

What type of phone number does your business need (toll-free, local, international)? 

Will you require a call routing solution?

How is your workforce organized (in-house or distributed remotely)? 

Do you also need audio and video functionality? 

Do you have other business tools that need to be integrated? 
Once you've got a clear idea of the features and tools you require, it's time to go shopping. First, identify which type of VoIP service you'll need. There are three distinct service models: 
1. VoIP only
VoIP only solutions provide just the telephony functions. These providers offer the basics. That means calling, voicemail, call forwarding, and caller ID. You will not get any management features or much beyond calling capability (i.e., no video or messaging). 
2. VoIP with a cloud phone system 
VoIP with cloud phone system solutions combine VoIP with cloud PBX technology. Alongside cloud calling, you'll benefit from advanced routing and business call management tools (auto attendant or virtual extensions, for example). 
3. VoIP with a unified communications solution
Some VoIP solutions (like RingCentral Office) come as part of a unified communications solution. You'll get VoIP, cloud PBX, video, and messaging all in one. It's a great way to streamline business communications, which can then be accessed from one central hub. 
Essential features to look for in a VoIP app
So, what are some of the best features to look out for in your new VoIP application? We've whittled it down to a fundamental checklist. So take these criteria with you on your next business-communications shopping trip. 
Essential VoIP features include:
Competitive international call rates

Good call quality and connectivity 

Reliability and coverage 

Easy installation and management 

Monthly subscription costs 

Excellent customer service 

Comprehensive features

Possibility of upgrades

Telephone number porting 
There's a lot to consider, so take your time to shop around (and be sure to ask about these top features). Luckily for you, we've already put in the groundwork and selected our top 11 Google Voice alternatives on the market today. 
11 best Google Voice alternatives
We've scoured all the options and come up with our top list of business communication providers, based on all of the key criteria we've just covered. 
Let's dive right in! 
1. RingCentral: The most feature-rich Google Voice alternative 
At RingCentral we've designed a business VoIP alternative that goes above and beyond. This isn't just self-promotion—we truly believe that our solutions are the best on the market. At RingCentral we don't just design single-function tools. We design business tools that work in harmony as part of a fully comprehensive cloud-based communications solution. 
Streamlined, all-in-one solutions are the best way for businesses to boost efficiency, productivity, and improve overall workflows. As such, we provide top-tier, cloud-based messaging, video, phone, and collaboration solutions that allow for effective collaboration and communication from absolutely anywhere.
RingCentral Office is an all-in-one software solution that helps businesses streamline their communications from one secure platform. It's designed to help businesses get more done with fully integrated messaging, video meetings, and phone calls—all on any device of your choice. 
Alongside everything you get with a cloud calling solution, Office users benefit from additional messaging and video meeting tools. Let's take a look at what you get. 

Messaging: 
Team messaging 

Agenda sharing

Search tools, keywords, and filters

Live collaborations 

Messaging to video in a click 

Loads of app integrations, such as Google Workspace and Microsoft 365
Video: 
Meetings up to 200 people 

Invite by link, email, or text

Join, host, and invite in a click

HD audio and video 

Password protected meetings

Screen sharing 

Meet on any device 

Flip from call to video with one click
Switch between devices mid-meeting
So whether you're just looking for a cloud phone system, or something more, RingCentral has you covered. Your business will be fully equipped to streamline workflows, get organized in teams, and communicate from absolutely anywhere.
2. Openphone
Openphone is another alternative to Google Voice. This software is designed as a modern business phone and directed specifically towards startups and small business owners. Openphone allows users to record their own professional voicemail and list their business number on websites and social media platforms without risk of spam. 
Features include: 
Shared phone number

Interactive interface 

Team communication

Snippets and auto-replies

Keyboard shortcuts

Call recording 

Group messaging 

Global calling and messaging

Message transcription
However, if you're looking for an all-in-one phone and video platform, Openphone might not be the best option. Openphone is a cloud phone software only.
For a full communications solution, it would have to be mobilized alongside other supporting applications—in which case, it is much more efficient to deploy an all-in-one business communications solution (like RingCentral Office!) where everything can be found in one place.
3. Grasshopper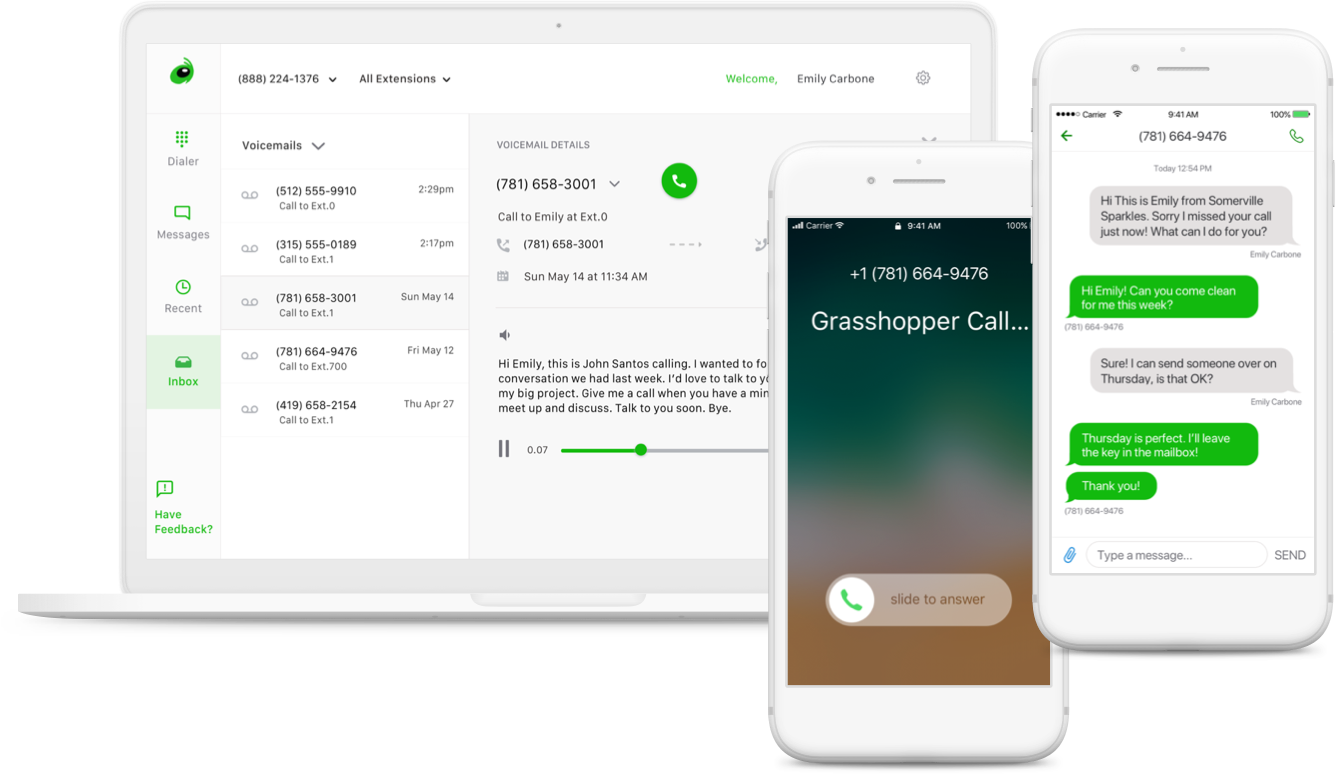 Grasshopper is another virtual phone application that offers business communications solutions for small organizations. You'll get a professional phone number to use across multiple devices (including iPhone, iOS, Android, and landline). However, some users have reported that Grasshopper lacks the precision analytics of other more data-driven tools. 
Features include:
Toll-free, vanity, and local numbers

The option to port your current number

24/7 US-based support 

Custom greetings

Extensions 

Call handling

Affordable pricing 
4. GoToConnect
GoToConnect is a business communications tool that includes calls, meetings, and messaging in one unified platform. Users can make calls from anywhere and switch between desk phone, desktop app, or mobile app. The app uses cloud VoIP, web, audio, and video conferencing. 
Features include:
Custom hold music

Dial plan editor 

International calling

Call routing and management

Caller ID

Do not disturb

Find me/follow me 

Video conference calls 

Up to 250 participants 

Up to 25 HD video feeds 

Screen sharing 
However this application lacks advanced features and automations like instant messaging, reporting, and third-party integrations. 
5. FreshCaller
FreshCaller is a business communications tool and cloud PBX system that helps teams manage client calls and collaborate internally. It requires no hardware or downloads and offers a lot of services specific to contact center management. 
FreshCaller is designed as a flexible phone system to help teams work from anywhere, provide customer support, optimize sales teams, and engage customers with features like call bots, call routing, and smart escalations.
Unfortunately some users have reported problems with FreshCaller's support services, reporting slow service due to an overwhelmed system. 
Features include:
Hosted PBX

Message alerts

Audio conferencing

Call recording and metrics 

Inbound caller ID
6. MightyCall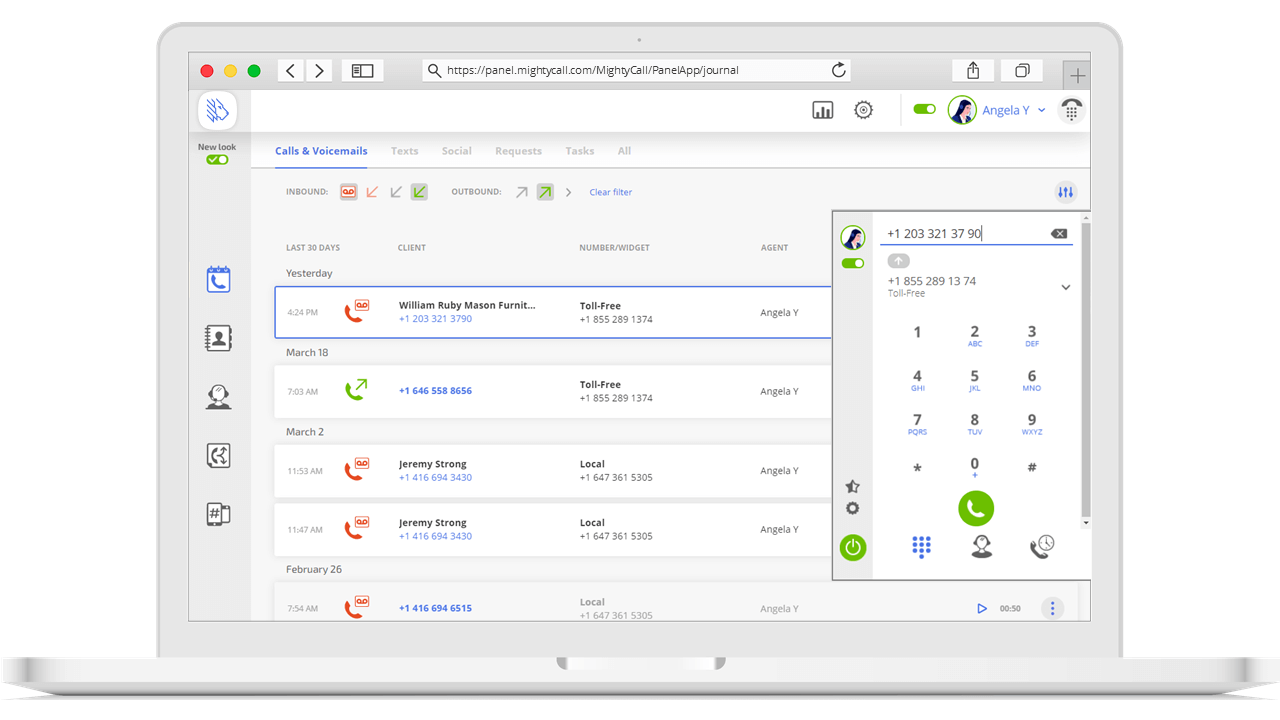 MightyCall is a virtual phone system with added CRM capabilities for small businesses. Users can make and receive incoming calls from any device of their choice and set out a call flow with the MightyCall conversational chart and communications history. 
Features include:
Data protection

Payment processing

Make and receive calls from any device 

Toll-free numbers

No per-use charger

Local phone numbers

No additional hardware required
It is noteworthy, however, that some users have reported that app functionality can be slow on both Android and iOS. 
7. Virtual PBX 
Virtual PBX is another virtual communication tool that can be scaled for small businesses or enterprise-level companies. It is designed to help users monitor their calls in real time and provides automatic call distribution to help manage traffic. 
Features include professional voice, video, and SMS, call forwarding, and unlimited calling. However, due to a complex user interface, setup can be a bit of a challenge. 
Features include:
Voicemail

Auto attendant

Unlimited call handling

Call forwarding 
8. Aircall
Aircall is a cloud-based call center software for teams. It is designed to help you connect to your existing tools, while improving communication team productivity. Aircall is a free alternative to Google Voice and comes with cloud telephony integrations, helpdesk, and CRM software. Unfortunately at this time, Aircall does not include any workflow management features. 
Features include:
Toll-free numbers

International numbers

Call conferencing

Voicemail

Call routing 

Interactive voice response (IVR)
9. JustCall
JustCall is a cloud phone system for sales and support teams. Users can set up a cloud phone system in minutes, which can then be used for sales, support, or as a business phone system. JustCall can be integrated with other CRM and help desks. One downside, however, is that while audio conferencing is supported on this application, video conferencing is not. This can limit your virtual meetings, making them a little harder to run. 
Features include:
Local and toll-free numbers

Send and receive SMS

Call recording

Caller ID

Custom greetings
10. Telzio 
Telzio is a business phone system and VoIP service provider that powers your business phone numbers across multiple devices. Telzio offers an easy-to-use interface alongside call management functions and multiple extensions. Features include call queues, recording, and monitoring, as well as free internal calling and unlimited users. However Telzio does not come with predictive dialing or contact management tools. 
Features include:
Live call data

Call queues

Call monitoring 

Call recording

Personalized greetings
11. Skype

Finally, we'll end our list with the name everyone knows well: Skype. Skype is well known as a platform for video calls with friends and family but is also often used by small businesses for professional communications purposes. 
Features include free calls for up to 100 people, landline calling, and Meet Now (which lets users start calls directly from their Windows 10 taskbar). Like Google Voice, Skype is a popular free option for early-stage businesses, but may lack the necessary features for rapid scalability. Larger businesses will need to swap to Microsoft Teams in Microsoft 365—which is quite an investment. Audio and visual quality is often low, and Skype is known to freeze up from time to time. 
Features include:
Audio and HD video calling 

Smart messaging

Screen sharing

Call phones

Call recording

Live subtitles
Google Voice alternatives: Is it time to make the switch? 
While Google Voice's free phone service might have seemed like an attractive package for startups, there comes a time in every young business's life when scalability becomes top priority. If that sounds like you, it's time to think about switching to a powerful business communications software that will grow with you. 
Start by thinking about what it is that your business needs, and work from there. For maximum efficiency and workload optimization, we recommend opting for an all-in-one communications solution like RingCentral Office. That way you'll be able to manage your calls, messages, and video conferencing all from one place, rather than adding in different apps as your needs expand. RingCentral Office has tons of integrations, making it easier to adopt alongside pre-existing software you might use.
Originally published Apr 29, 2021, updated May 14, 2021
Work together from anywhere with messaging, video conferencing, and phone calls—all in a single platform.