You might have heard the phrase "Device as a Service"—or "DaaS"—floating around lately. That's because DaaS is growing in popularity with businesses across all kinds of industries.
Picture it: What if your business could optimize the total cost of hardware procurement, streamline vendors, decrease tech clutter, reduce IT workloads, and provide the highest level of communications security possible for remote teams—all with one smart move? 
That's where Device as a Service comes in. 
In this guide, we'll cover:
What is DaaS (Device as a Service)?
Simply put, DaaS is a subscription-based model that provides businesses with hardware and IT support at the same time. A DaaS solutions provider distributes, provisions, and manages devices for your workforce, regardless of where your workers are.
For example, if your company is in need of communications equipment and services, a DaaS deployment might include a certain number of headsets and video conferencing hardware for a flat monthly subscription fee, along with the IT support you need to leverage the devices.  
Why is DaaS becoming more popular?
The simple answer is because they're awesome and make life easier for businesses. Why? Because DaaS answers a two-fold need that many businesses have: the need to save money while also improving organizational infrastructure. As a result, many businesses are favoring OpEx (day-to-day operating expenditures, like hardware subscriptions) over CapEx (larger up-front investments in owned hardware).
The DaaS market has grown dramatically and shows no signs of slowing down. The global device-as-a-service market size was valued at USD 30.75 billion in 2020 and is expected to expand at a compound annual growth rate (CAGR) of 37.8% from 2021 to 2028, according to Grand View Research: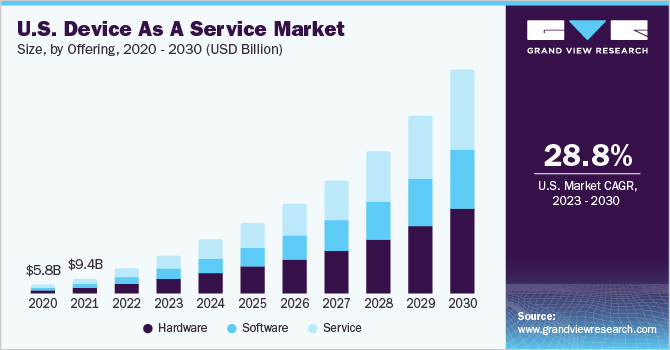 While popular (and often necessary), a hybrid work model can present challenges. Many organizations had to reimagine their entire workspaces, accommodating workers looking for more flexibility. Redesigning the workplace is no easy task, and it can come with a hefty price tag.
Equipping a remote workforce with the devices they need to do their job efficiently and securely can be costly. But here's the good news: it doesn't have to be.
DaaS offers organizations a way to outfit their remote teams with the devices they need with a cost-effective subscription-based service. When businesses choose device-as-a-service models, they reduce capital costs while simultaneously ensuring that they have the right infrastructure in place to meet their needs as they scale.
DaaS vs leasing equipment: What's the difference?
You may think that DaaS sounds a lot like leasing equipment, but there are some key differences.
Accenture summed it up nicely in this nifty Venn Diagram:
DaaS combines software and hardware to provide a seamless experience for your employees and ultimately, for your customers as well.
The benefits of Device as a Service (DaaS)
DaaS is a popular choice for forward-thinking businesses for a number of additional reasons. Here are six of our favorites: 
1. Lower costs
DaaS enables businesses to deploy the hardware needed at any given time for a low monthly cost rather than requiring the actual purchase of costly hardware. A DaaS model scales as your business scales, meaning that you always have the hardware required to meet the needs of your workforce—-all without major capital outlay. (In finance-speak, you can change the cost of hardware from a capital expenditure to an operating expense.)
When you choose one DaaS vendor that supplies both hardware and software, you can consolidate and simplify your tech stack.
A simplified tech stack helps both your IT department and your end-users. DaaS provides up-to-date hardware and software, enabling employees to work with confidence that their data is safe and secure. With access to full tech support for employees no matter where they may be working, you can keep your workforce productive, secure, and efficient.
4. Better device lifecycle management
A device-as-a-service solution includes automatic device management such as patches and updates as needed. DaaS allows you to concentrate on value-added activities for your business, while you let your DaaS vendor worry about the minute details of device management. When it's time to retire a device, your DaaS vendor can handle it—easy, peasy.
5. Included tech support
Ever purchase a piece of equipment only to find out that when something goes wrong with it, you're on your own with no one to call for support? 
Choosing a device-as-a-service solution enables you to completely avoid that sad scenario. Maintenance and support are included. When you encounter a problem, your DaaS provider is there to solve it. If a device breaks, malfunctions, or causes any other issue, you can simply send it back for a new replacement. How simple is that?
6. Reduction of IT workload
Perhaps one of the most notable benefits of adopting a DaaS model is the effect it has on IT workloads. According to an IDC study, DaaS helps reduce IT workloads by up to 16%, with small businesses benefiting the most dramatically. Device-as-a-service models help businesses streamline workflows by equipping every team member for optimal productivity and performance.
Examples of Device as a Service / DaaS
Several well-known brands have entered the DaaS space to provide both hardware and IT management services in a subscription-based model.
PC manufacturers such as HP, Intel, and Lenovo were among the first to offer DaaS solutions to businesses. Others  like Cisco, Apple, Microsoft, and Cognizant quickly followed suit. Today, brands offer PCs, laptops, tablets, smartphones, headsets, video conferencing equipment, and more via a DaaS model.
Of course, RingCentral offers a great DaaS option that enables RingCentral customers to benefit from the latest and greatest hardware that integrates seamlessly with the latest RingCentral software, along with seamless setup and worry-free deployment: 
For now, this great solution is only available to US customers, but stay tuned for more information for our international customers coming soon.
How to choose the best DaaS for your business
Once you've decided you want to take advantage of all a Device-as-a-Service solution has to offer, there are some factors you should consider as you decide which is the best DaaS for you.
Step 1. Plan ahead
Identify your business requirements. If you currently have devices, make a list of what you have and then compare it to what you want or need to have. Think about how your devices are or will be used and what integrations you will need to help streamline your workflows and support your workers.
Step 2. Realize that size matters
Figure out how many devices you will need, based on your current business size, your employee headcount, and your desired workflows. Be sure that you choose a vendor that can accommodate your current needs and scale with you as you grow.
Step 3. Choose best-in-class hardware out of the gate
One of the most significant benefits of DaaS solutions is that they give businesses the ability to enjoy state-of-the-art hardware without heavy capital expenditure. Don't shortchange yourself by choosing inferior hardware. Work with a vendor that offers best-in-class hardware for the most professional experience.
Step 4. Consolidate wherever possible
Another significant advantage of DaaS models is that they actually declutter your tech stack if you choose your vendor wisely. Look for one vendor that can provide hardware, software, and IT management all wrapped up in one neat bow.
Step 5. Prioritize security
Look for a DaaS vendor that offers best-in-class security to protect your business and your employees, no matter where they may be located. 
Step 6. Explore support options
Excellent support is integral to a robust DaaS offering. Look for a vendor that offers anywhere, anytime support in a convenient format for your workforce. If support options are lacking, pass on to another vendor on your list.
Step 7. Make your choice
Once you examine all the points above, you will likely find that your choice is not as complicated as you imagined it would be. Interview a small handful of vendors and make your final decision. You've got this!
RingCentral: The vendor you need for DaaS
RingCentral DaaS is the solution of choice for the most up-to-date equipment and latest software. 
With RingCentral DaaS, you get:
Lower upfront costs. Our monthly subscription model enables you to lower your costs and use your resources more effectively elsewhere.
Headache-free fulfillment. All shipping, handling, and servicing of devices is in our capable hands, so you can have peace of mind knowing we've got you covered.
Easy upgrades. Thanks to our great partners and the best upgrade program in our industry, we can keep you on the cutting edge of technology.
Best-in class hardware. RingCentral cultivates a strong relationship with leading hardware providers to deliver seamless set up and experiences.Combined with our industry-leading software, our DaaS solution gives you the best of both worlds.
Whether you are using a headset for your new contact center subscriptions or need RingCentral Rooms video hardware, we have options that will add variety in your deployment decisions. Here's a full breakdown of what we offer:
Headset options available from RingCentral DaaS
| | | |
| --- | --- | --- |
| Headset Model  | Wired/Wireless | Monthly cost |
| Poly Blackwire 5220  | USB A  | $5.50 |
| Poly EncorePro 715  | USB | $6.50 |
| Poly EncorePro 725  | USB | $8.00 |
| Poly Blackwire 3320  | USB A | $3.50 |
| Jabra Engage 50  | Wired | $9.50 |
| Jabra Engage 65  | Wireless | $18.50 |
| Jabra Biz2300  | Wired | $8.00 |
| Jabra Biz1500  | Wired | $9.00 |
Conference room tech available via RingCentral DaaS
| | | |
| --- | --- | --- |
| RingCentral Rooms Appliance Model | Components  | Monthly Cost |
| Poly x30 Bundle | x30 with TC8 controller | $96.00 |
| Poly x50 Bundle | x50 with TC8 controller | $148.50 |
| Poly x70 Bundle | X70 with TC8 controller | $336.00 |
| Yealink A20 bundle | A20 with CTP18 controller | $102.00 |
| Yealink A30 bundle | A30 with CTP18 controller | $133.50 |
| Logitech Rally Bar Mini  | Rally Bar Mini with Tap IP | $166.00 |
| Logitech Rally Bar  | Rally Bar with Tap IP | $214.50 |
| Logitech Rally Plus  | Rally Plus with Tap IP & Roomate | $242.00 |
RingCentral DaaS is currently available to US customers only, but international customers will soon be able to enjoy it as well.
To learn more about RingCentral DaaS and how it can help your business, visit RingCentral today.
Originally published Dec 01, 2022, updated Jul 24, 2023