Team messaging apps have come a long way since their creation. And with so many dynamic options out there, it can be hard to narrow down the best choice for your business.
In this concise guide, we'll look at some of the best team messaging and chat apps to help your remote teams maintain close and effective teamwork, no matter where they're working from. 
Let's get into it:
---
💬 How to buy a team messaging app: Follow our checklist for success.
---
Why team messaging apps are good for business
If you're running a business today, chances are you're already using some kind of instant messaging app with your team. And with remote and hybrid work on the rise, the need for these apps isn't going away.
If you haven't looked at the wide field of team messaging in a while, it might be a good time to check out what's new. You'd be surprised just how much they can do now to keep your team on track and in touch.
How to choose the right team messaging app for your business
When choosing a team chat app, there are a few points you must consider. Firstly, you need an app that'll work for the entire team; it's no good if it only suits the needs and requirements of a few colleagues. 
Ask team members what they'd value in a communication app, and if they have any specific suggestions.
Most importantly, however, you must have a clear idea of which features you need from your chosen group messaging app.
Here are some things to consider as you shop for a team messaging app: 
Mobile compatibility: Does the app work well on iOS and Android, as well as desktop?
Messaging capabilities: Does it enable individual and group chats?
Video chat: Does the app offer face-to-face calling for 1:1 and group chats?
Ease of use/accessibility: Can everyone on your team navigate the app easily?
Search function: How easy is it to find old conversations?
File sharing: Does the app allow it? How are files stored for future finding? Can files be annotated?
Integrations with your current apps: Does the app seamlessly fit into your tech stack?
Emojis and GIFs: Inject a little fun into your team messaging!
Pricing is also an important consideration. Small businesses in particular tend to have only limited funds at your disposal. You should therefore set a budget before you start looking for a team chat app. 
Essentially, you need an app that'll enable you to streamline workflows and boost productivity through closer communication, without breaking the bank to get it.
Our picks: 7 powerful team messaging apps
So, with all that in mind, we need to look at some of the messaging apps that are widely used by businesses around the world. 
This quick overview will give you a clearer idea of the various options on the market, and what they can do for your organization and its employees.
1. RingCentral: our favorite all-in-one team messaging app
We'll freely admit to a little bias here, but the RingCentral app is at the top of the list with very good reason. 
RingCentral's team messaging tool not only allows colleagues to stay in close contact with one another, it also enables businesses to streamline communications with clients as well by inviting external guests to join conversations.
RingCentral also makes it simple to share files and pin comments, so everyone has easy access to the information they need: 
Create team chats for internal and external groups, as well as sending business texts from your RingCentral phone number. Assigning and checking off tasks, sending recaps, and preparing next steps is also simple.
Better still, you can switch from a one-to-one or team conversation to a video chat at the tap of a single button. RingCentral also connects with hundreds of third-party tools, including Microsoft 365 and Google Workspace.
2. Microsoft Teams
Microsoft Teams combines instant messaging, video chat, and voice communication. It's closely integrated with other apps from the Microsoft 365 suite, including Microsoft Office. It's highly customizable, so you can set it up in a way that works particularly well for the individual needs of your business.
All that said, some users get confused about which Microsoft 365 tool they should be using in a given situation. The number of channels on Teams is also limited to 200 public and 30 private channels per team, which may be problematic for larger businesses. Some users also find that notifications can be erratic in Teams, causing them to miss important messages.
3. Google Chat
A rebrand/replacement for Google Hangouts—part of Google's wider transition from G Suite to Google Workspace—Google Chat is a one-to-one and team messaging tool that's intended to facilitate closer collaboration among colleagues. It's integrated with Google's wider suite of productivity software and has a simple, clean, and functional interface.
If you do all of your email and file sharing via Google, Google Chat might be a decent option for your team. 
4. Ryver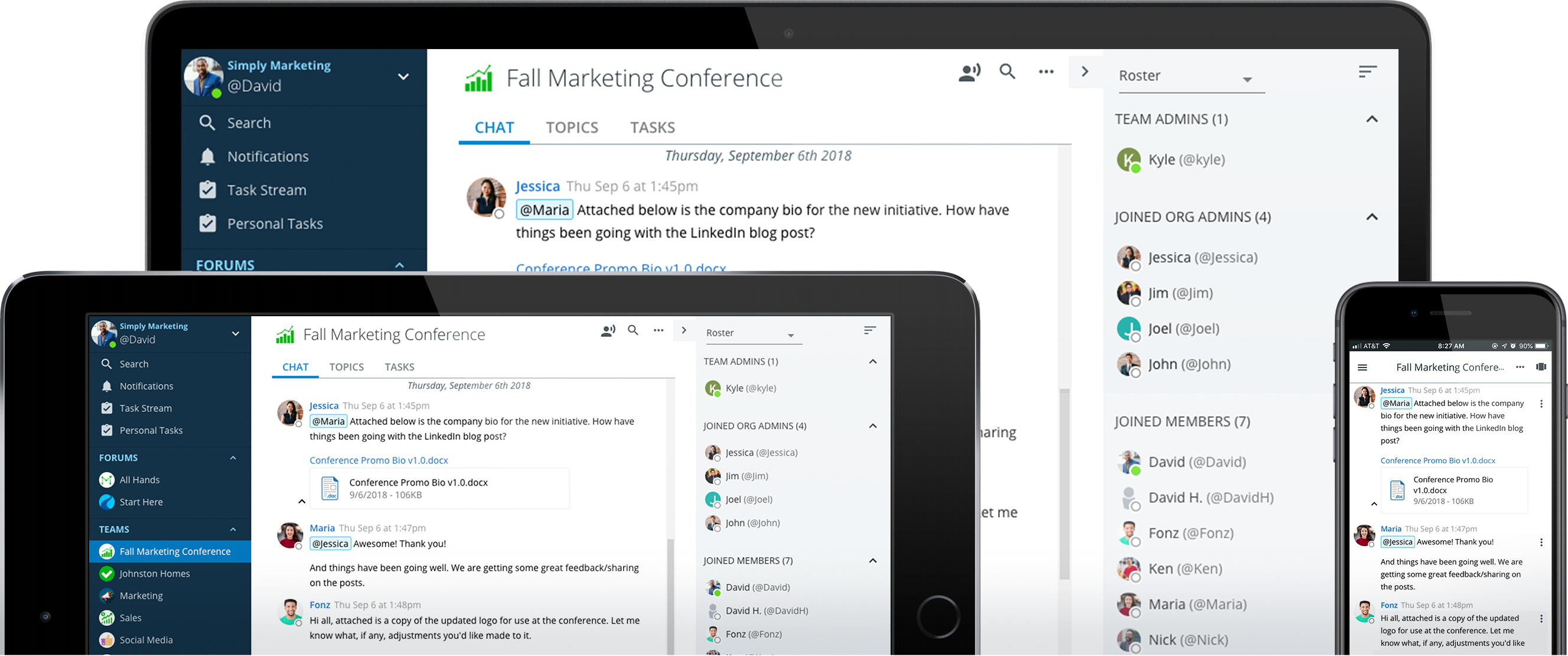 Ryver is a communication tool that is geared first and foremost towards enhancing team productivity. It offers a plethora of integrations, and it's straightforward to use. You can also use your pre-existing login options, allowing you to sign in with single sign-on. It offers custom channels, too, including company-wide messages, team chats, and one-to-one chats.
However, other tools, including RingCentral, are better for integrations. Ryver uses Zapier to connect with third-party tools, but there's a limit of only six free integrations, and for any extra integrations, you'll have to pay.
5. Flock
Flock is a team communication tool—also incorporating audio and video conversations—offering a variety of built-in productivity features, including screen sharing, to-do lists, polls, and shared notes. Third-party integrations, meanwhile, include Google Calendar and Analytics, as well as social media apps such as Facebook and Twitter. 
There are some shortcomings here as well, though. For a start, Flock offers only limited customization options when compared to other apps in its field. Likewise, its design is somewhat basic and unpolished.
6. Slack
An app that probably needs little introduction, Slack is one of the most popular team communication tools in the world. Its features—including file sharing, private channels, and various third-party integrations—did much to set the template for what we would expect from a team chat application.
Slack's search function makes it quite straightforward to sift through chats for particular keywords. File sharing is also easy. You can either drag and drop them into the chat or link users to them (links usually unfurl in the chat, providing a handy preview). It's also simple to bring more people into channels and threads—all you need to do is tag them in.
That said, Slack does have its downsides as well. For one thing, its price might be a problem for some firms, as it's a standalone piece of software that doesn't come as part of a wider bundle. Also, if you want a tool that integrates team messaging with other communication channels, particularly phone calls, you may need to look elsewhere. The channels layout by hashtags might also be a little confusing at first for folks who are brand-new to the platform. 
7. Discord
For voice chat, Discord can be a good option. It was originally designed for gamers, and this is suggested by its always-on audio. It does provide text-based messaging and video chats as well, but its main selling point is its voice channels. If you want to talk to your colleagues while working on a shared file, for example, Discord can be useful.
In addition to its audio quality, another important selling point for Discord is its HD screen sharing. However, Discord wasn't originally designed for business, so it's not necessarily as secure as some other team communication apps, and it doesn't offer as many integrations. Like Slack, it might also have a bit of a learning curve for folks who aren't familiar with the platform's channels feature.
Level up with team messaging apps
In the age of working from anywhere and the ongoing automation revolution, technology is having dramatic effects on the way we work. 
Team messaging apps, in their own way, have brought about a real transformation in workplace collaboration. This is why it's so important for your business and its employees to have the right communication tools at hand.
Team messaging software can take your business to the next level, particularly if they're part of a comprehensive, all-in-one business communications solution like RingCentral. 
It can help colleagues perform to the very best of their ability, regardless of where they're physically working from. This can give your business a key competitive advantage, as well as making it a more attractive place to work and boosting staff morale.
In this guide, we've aimed to provide a quick run-through of some of the most popular team communications solutions. Now it's up to you to find the one that works for your business. 
Choose wisely, and you could soon find your business reaping real rewards as a result.
Originally published Jan 11, 2022, updated Feb 07, 2023