A small business's needs are unique. Unlike huge corporations and big-box stores, every dollar in (and out) could be make or break. And the same goes for your customers; every new fan you earn is a step in the right direction, but it can be hard to hold onto them if your communications are stuck in the last century.
Luckily, today there are so many affordable options available for you to upgrade the way you connect with your customers. VoIP technology, when done well, can streamline your communications and put you in better touch with every customer you have, and that goes well beyond phone calls. A powerful VoIP service that understands the pain points of a small business is one key to growing your business.
But with so many options out there, it can be hard to know which software is the right fit for your business. That's why we've rounded up and ranked nine of the top VoIP providers, with small businesses in mind. These are all affordable options (some more than others) that offer different levels of service and features, depending on your price point.
Here are the criteria we used to rank these VoIP services:
Value. Affordability is great, but that's just a number on paper. What you get for that number, exactly, determines the product's value. Beware the à la carte apps!
Ease of use. Time is a valuable resource for small businesses, so we looked into customer reviews about each product's ease of use and customer support.
Proprietary technology. Problems can get fixed faster when your VoIP provider owns the technology they're selling, and phone downtime due to technical issues can be costly.
Quality of service. How reliable is that cloud phone connection? Uptime matters when every call is valuable.
Integrations. How well does the platform sync with your current applications, like your CRM or email client? The less toggling you have to do, the better.
Overall number of features. Who stands out from the basic offerings, and why?
And here's our ranked list of VoIP systems for small businesses, from best to, well, least-best:
Read on to learn more about the pros and cons of each of these VoIP providers.

1. RingCentral: The top VoIP choice for small businesses
We aren't just tooting our own horn here, we promise. TechRadar just named RingCentral the top VoIP service provider of 2020,[1] and small businesses will love the reasons why.
RingCentral earned top marks for best overall quality of calls, ease of use, and our range of pricings to satisfy any budget. As a small business owner, you've probably learned that real value beats the cheapest price every time. RingCentral is both affordable and offers a high-quality VoIP phone system for businesses of all sizes, with toll-free minutes included at every pricing tier. Plus, our app has a clean, beautiful interface whether you're on mobile or a desktop device:

RingCentral is so much more than a cloud phone, though. This modern system comes with over 50 robust features that let you turn any mobile device into a powerful business tool, including:
99.999% uptime SLA
Your carrier in 40+ countries
Easy-to-use desktop and mobile app
Business numbers for desk and mobile devices: over 200 area codes available
HD quality for voice and video
Unlimited audio conferencing
Up to 200 video conference participants
Voicemail transcription for easy reading
Business SMS and online fax
Team messaging and collaboration: group chat, file sharing, tasks
First-rate security across all devices
24/7 live support: phone, chat, email
Real-time metrics for monitoring quality of service
RingCentral also integrates seamlessly with over 200 popular apps like Salesforce, Google, Outlook, Slack, and tons more. All of these features add up to time saved on manual tasks and toggling between different tools, which means more time spent on the work that matters most to growing your business.
And speaking of growing your business: RingCentral also offers an omnichannel contact center that can take your customer service game to the next level. This additional service helps you handle and track all your customer contact—phone calls, emails, text messages, even social media comments—from one easy-to-use platform that's built for collaboration:
---
🕹️ Get a hands-on look at how RingCentral works by booking a product tour:
💰 You can also use this calculator to see roughly how much your business could save by using RingCentral to support your team's communication with each other—and clients.
---

2. 8×8
8×8 is another solid choice for small businesses in need of VoIP services, especially if price is your be-all and end-all. Upfront, they're cheaper than RingCentral; they offer competitive quotes, shorter contracts, and deep discounts. But buyer beware: their pricing can be a real study in "you get what you pay for."
We recently did a deep dive on 8×8, and here's what we found. Compared with RingCentral, 8×8 falls short on live phone support availability (only certain products qualify), and number of app integrations (a couple dozen versus 200+). They still deliver good service and a user-friendly interface, and they rank well overall as a VoIP service provider. 8×8 might be the right choice if you need to get a basic VoIP service off the ground for your business at the lowest price. Just expect to pay more for additional features over time.
Vonage is a big name in the communications game, and for good reason. Like RingCentral, they offer an extensive set of features with several tiers of pricing and service, so you can choose the plan that makes the most sense for your small business and the option to add on a customer engagement suite. They also have a good-sized base of customers who are small business owners, which means they know what they're doing when it comes to your unique needs.
There are, of course, a few catches. For one, you can't sample the product with a free trial, as you can with RingCentral and many others on this list. So if you're considering Vonage, be sure to ask lots of questions about functionality specific to your business needs before signing that contract.
Vonage also owns less of their tech than RingCentral for some of their features. That means behind their app, Vonage is juggling several different platforms, which might lead to snags in seamlessness for you… and more overhead for them. That's why Vonage is one of the most expensive offerings on this list.
[ebook-download title="Learn more about managing your finances as a remote team" src="" cta-text="Read it now" link="​https://www.ringcentral.com/remote-work-finance-playbook.html​"]

4. MiCloud Connect by Mitel
Mitel's been in the game for a long time, opening back when the idea of the cloud hadn't even been thought of yet. They've earned this longevity by offering reliable products, and it shows; TechRadar ranked them #4 in 2020 for best VoIP (behind RingCentral at #1).
MiCloud Connect is just one arm of this communications company's offerings. While they come in on the more expensive side, there are some aspects that might make this product worth your while. For example, if you have a diversely skilled team that's focused on upward mobility, MiCloud Connect's user management might make your life easier. It's a breeze to create and manage users within the cloud software interface, and you can select a different pricing plan for every team member, instead of one lump purchase, so you only pay for what each user really needs.
And also, like RingCentral, there is the ability to integrate contact center capabilities for an additional fee per month, all within one app for ease of use.
For about the same price as RingCentral (potentially a few dollars less per user per month, depending on what tools you need), MiCloud Connect's offerings fall a little short. As of the writing of this post, Mitel's uptime SLA is listed as 99.99%, compared to RingCentral's 99.999%. This might not seem like a huge difference, but having phones down as a small business can mean real business lost, so try to find the best uptime as you're shopping.
Reporting is an important feature to consider. While RingCentral offers intuitive, easy-to-read dashboards for any number of metrics and KPIs you care to track, MiCloud's reporting functionality is siloed across the different versions (internal and external usage). That means it can be a little clunky trying to bring all the data together and identify trends for decision making.
We did a deep dive on Mitel compared to competitors here, if you're interested in learning more.

5. Star2Star
Star2Star is another top contender for small business VoIP, offering a 99.999% uptime SLA just like RingCentral. Customers seem happy with the ease of use and price, and Star2Star touts being affordable, but they don't list their plan prices on the website.
Star2Star has also come out strong on their disaster recovery capabilities: the ability to keep your business up and running no matter what happens, thanks to the cloud and constant monitoring of service. It's worth noting that these functions and the other few they list for disaster recovery all come standard in other UCaaS offerings, including RingCentral, so it's not clear how exactly they're doing disaster recovery better than their competitors.
Star2Star includes the ability for external collaboration through their messaging feature, but it's limited to, at most, 20 outside contributors at their highest price point. This might not be the best product for your business if you're any kind of consulting or creative team that collaborates heavily with your clients, sending drafts or other items back and forth for multiple projects at once via the messaging function. It's also unclear what the video conferencing capacities are at each pricing tier, so be sure to ask about this if face-to-face remote meetings are important to your business.
Dialpad offers some low-cost options for small businesses. Customers appreciate the easy installation and ease of use, and Dialpad integrates with a few of the big-name apps: Salesforce, Zendesk, Microsoft 365, and a handful of others. Their paid plans include some of the features RingCentral offers: cloud phone and text messaging capabilities, as well as internal group chat in one app:
But just like the other more cost-conscious options on this list, you might notice the difference in quality. While RingCentral guarantees just about the highest level of phone service in the industry, Dialpad customers have complained about spotty calls over Wi-Fi at times.[2] Also, their video conferencing software isn't proprietary; they use UberConference for this functionality within the app. As we've noted in other reviews above, this means Dialpad doesn't have direct control over changes and updates made to this important piece of software. It also might take them longer to get video issues fixed for you as a result.

7. CenturyLink
If the heart of your business communication needs is a solid contact center for customer service, CenturyLink is worth investigating. Their customer engagement tools are strong and inclusive, offering a decent suite of features to help you connect with and delight customers. The app also includes internal collaboration tools like group messaging and file sharing. It's unclear what the price points are for their two digital phone tiers, however, so if you're interested, you'll have to call or chat with them to find out. CenturyLink offers a 99.99% uptime SLA:
CenturyLink runs into a similar hurdle that some of RingCentral's other competitors do: unlike RingCentral, they don't own their technology. CenturyLink's softphone service operates on Broadsoft-hosted VoIP, which means technical issues might take more time and communication to properly fix.
They also offer limited out-of-the-box integrations with popular business software, so you could find yourself doing a lot more toggling between different apps. And some pretty basic features—Auto Attendant and call recording, for example—are add-ons you have to purchase separately.

8. NetFortris (formerly Fonality)
NetFortris comes in with a similar price point to RingCentral at $24.99 or $34.99 per user per month (RingCentral also offers a no-frills messaging and phone service for less than $20 per user per month). They also offer a new, unified communications platform that offers phone, video, and messaging as well as conferencing capabilities.
The similarities, for the most part, end there. NetFortris's uptime comes in shy of RingCentral's (around 99.994%). The team messaging feature is young, only implemented since NetFortris acquired Fonality, so the jury is out on how intuitive and functional it is (though it does offer file sharing).
Plus, for the same price as RingCentral, you end up with fewer features overall. For example, NetFortris charges extra for faxing and assistance with system setup, while these services come included in every RingCentral package. And while they do offer 24/7 support, it's only by phone, and not everyone has had the best experience.[3]
NetFortris also only integrates with a handful of third-party apps. For the same price, you get a lot more value all around with a product like RingCentral.
3CX just might be the VoIP service provider for your small business if you're on a super-tight budget. While most other applications cost around $20 per user per month, give or take, for a middle-of-the-road plan, 3CX offers their highest tier for $1.31 per user per month (as of the writing of this post). They do also offer a very limited plan for free, with different capacities depending on expected simultaneous calls.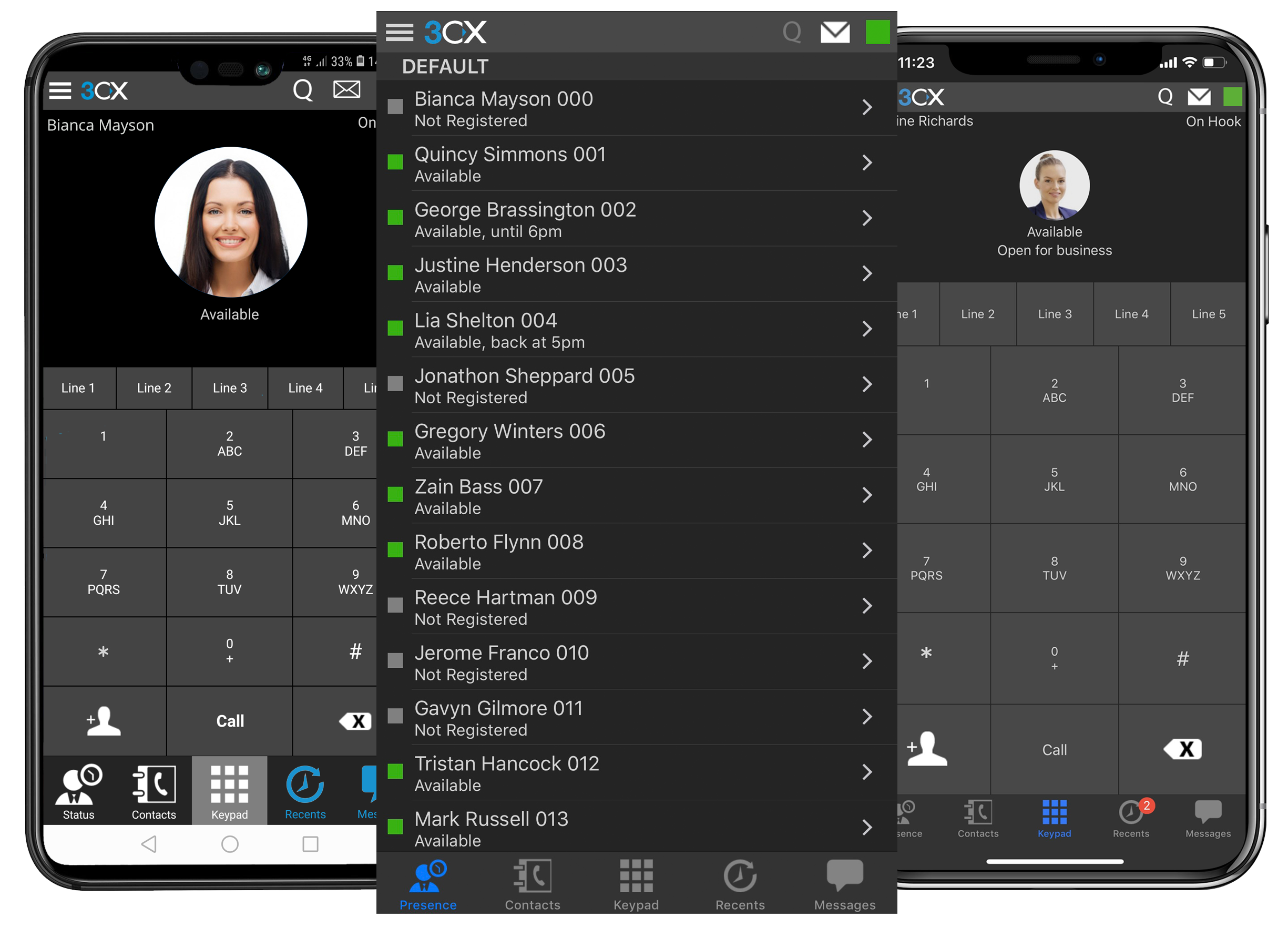 As you might imagine: you get what you pay for. 3CX is a pretty basic VoIP option, with no video conferencing included and few features beyond handling phone calls. Integrations are extremely limited; they mention Microsoft 365 and then "CRM," but it's not clear which CRMs play well with 3CX. They do offer a CRM template creator for systems that don't sync with 3CX, however.
One way 3CX can keep their prices so low, besides offering a no-nonsense phone system without the bells and whistles, is not owning their cloud technology. To get up and running with cloud phones, you first have to choose your cloud provider: Google Cloud, Amazon Lightsail, or one of several others. This might be great if you already use the cloud for other aspects of your small business, but we can see this outsourcing causing issues if you run into a technical problem with the cloud down the line. Will 3CX be able to help quickly, or will you have to call multiple companies just to get back online with your customers?
The best VoIP for small business is…
While RingCentral clearly offers the most well-rounded set of features for a small business VoIP, we know that every small business is different. There's no one-size-fits-all when it comes to your business phone needs. Our advice? Identify two or three services that seem like the best solution for your business, and take them for a test drive. Most of the companies on this list provide demos or even a free trial. Still others offer a fully free, no-strings-attached  version of their platform.
A new VoIP system for your small business is a big decision, but it doesn't have to be painful. We hope this rundown takes a bit of the guesswork out of the process, so you can get your new communications system up and running for your business as soon as you're ready.
---
[1] techradar.com/best/best-voip-service
[2] capterra.com/p/148730/Dialpad/reviews/
[3] consumeraffairs.com/business/fonality-phone-systems.html
Originally published Jul 01, 2020, updated Dec 17, 2020