The customer experience has changed: today, customer priorities are different, and they demand more from the companies with which they do business. Companies must rise to the challenge and offer a customer experience that meets those changing needs.
At the end of October 2020, McKinsey published an article about the three building blocks of successful customer experience transformations. We'll explore these building blocks as well as how they can be used in your contact center to deliver an excellent customer experience.
McKinsey researchers identified three building blocks of a customer experience transformation:
Build aspiration and purpose
Transform the business
Enable the transformation
Building block number one: build aspiration and purpose
Broadly defined as "building aspiration and purpose," the first building block includes the following points:
Develop customer-centric vision and aspiration
Establish a link to value
Translate into a roadmap
A customer experience aspiration is the customer experience goal you aim to achieve in your contact center. Ideally, the customer experience should be smooth, enjoyable, and make the customer want to continue buying from you. The article's authors point out that many firms develop a generic customer experience aspiration, or they aspire to a customer experience that can't be measured or tracked. There has to be a clear link between the customer experience aspiration and value that can be tracked and measured. Next, that aspiration must translate into a roadmap of actionable steps.
Give your contact center agents the tools they need to communicate with your customers.
Customer service aspirations and the cloud contact center
Your contact center is the first place to which customers turn, so it should be the center of your customer service aspirations. The technology you choose to provide the foundation for your customer service aspirations can help in two ways:
By creating an excellent customer experience
By tracking and measuring how you're living up to those aspirations
Cloud contact center software allows you to offer an omnichannel customer experience, which means that you offer a number of channels through which your customers can reach you. According to Forrester, companies with the strongest omnichannel customer engagement strategies see a 10% year-over-year growth, a 10% increase in average order value, and a 25% increase in close rates.
A cloud contact center features built-in analytics solutions that measure factors such as customer satisfaction, average handle time, and first call resolution. Market-leading cloud contact center solutions allow you to customize metrics, so you measure what's most important to your company.
Building block number two: transform the business
McKinsey analysts point out that transforming the customer experience can't be treated as a run-of-the-mill business project; rather, business leaders must create agile, cross-functional teams that have deep technology expertise and have experience in design thinking and continuous improvement.
These cross-functional teams research what customers need and how best to deliver that. The article authors emphasize that they develop innovative concepts and prototypes to address pain points, and they prioritize meaningful metrics. Once these products and services are developed, the team scales them across the business, ensuring that they're integrated into the corporate technology stack.
Business transformation and the cloud contact center
A cloud contact center is an essential tool in the business transformation arsenal because it enables the type of deep-rooted changes that the McKinsey analysts recommend.
A cloud contact center enables an omnichannel customer experience, which transforms the entire customer experience. In addition, cloud contact center software can have a positive, even transformative impact, on the rest of the business.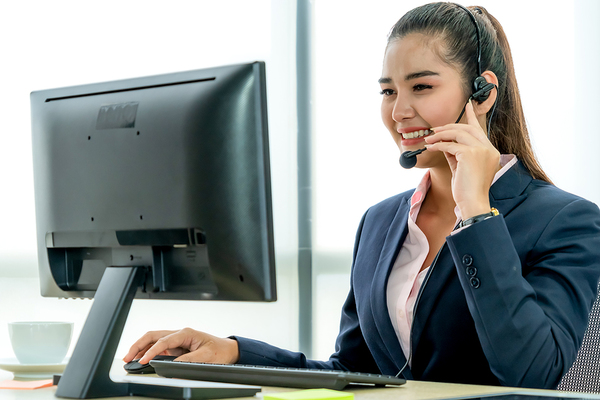 Cloud contact center software allows for greater collaboration between contact center agents and other business departments. For a start, cloud contact center technology provides an internal directory with presence indicators, so if an agent needs to reach a company expert to answer a question, he or she can. Second, agents can hold video conferences or chat with members of other departments, and it's also easy to share files between agents and team members from across the company. This approach breaks down the costly and wasteful customer experience siloes that cost US companies $537 billion annually.
Building block number three: enable the transformation
Enabling transformation means that leaders who have successfully implemented new, positive customer experiences continue that momentum by building new capabilities. Those capabilities include:
Customer-centric mindsets
An integrated technology stack
An agile operating model and governance structure
A performance management system built on predictive analytics and machine learning
How a cloud contact center enables customer experience transformation
A cloud contact center that offers an omnichannel customer experience is a vital part of enabling the broader customer experience transformation about which the McKinsey analysts wrote. A cloud contact center does that by:
Giving the customer options to reach your company
Making internal and external collaboration easy
Building agility into the contact center architecture
Building in analytics for improved performance management
Giving the customer options to reach your company 
As mentioned earlier, the omnichannel customer experience is essential to creating a customer experience that satisfies overall. The omnichannel customer experience means that the customer has the freedom to contact you on the channel of their choice. Nine out of ten customers want an omnichannel customer experience, according to UC Today, and a cloud contact center can give that to them.
Making internal and external collaboration easy
Cloud contact centers support internal and external chats, video conferences, and voice calls, so teams can share information across the organization as well as with customers. Research shows that collaboration creates a better customer experience: organizations that don't put the customer experience in silos are nearly twice as likely to exceed their business goal by a significant margin, according to eConsultancy.
Building agility into the contact center architecture 
Part of ensuring an excellent customer experience is being able to quickly shift resources so that you can satisfy the customer. You might have an agent sitting idle – that person can move from answering chats to talking with customers on the phone.
Companies that embrace agility see a 71% increase in the ability to manage changing priorities as well as a 61% increase in team productivity.
Building in analytics for improved performance management 
Robust cloud contact center software features built-in analytics. These analytics can measure how customers feel about their experience with your organization as well as how agents are performing.
Cloud contact center software provides reports on agent performance so managers can guide agents toward greater success. What's the pay-off? High-performing agents deliver better customer experiences.
RingCentral: enabling customer experience transformation at scale
Webinar: Excelling in the Experience Economy
Originally published Feb 25, 2021, updated Dec 30, 2022