Updated August 2021
---
If you're part of a sales team these days, chances are you're busy.
Like, crazy busy.
How much of your time is actually spent on actively selling?
Is there anything you can do to win back your schedule and actually spend time nudging your potential customers toward a purchase?
Well, you could invest in the right sales software.
From managing leads to speeding up communication and prospecting, the right software can take different tasks off your plate and help you close more deals. Oh, and we're not going to include Salesforce in this list—everyone knows Salesforce and it's on every "sales software" list already. Let's look at software that you might not have considered.
In this post, we'll walk through:
---
⬆️ Up your sales game and close more deals with sales apps. What should you consider during the buying process?
---
How to choose the best sales software for your team
Businesses are obviously spoiled for choice when it comes to sales tools.
So, how do you know if a solution makes sense for you and your team? Let's look at a few key points to consider when assessing the best sales software for your business.
Look at what you're lacking
Analysis paralysis is a real problem when it comes to business tools.
Sure, all of the above might be enticing. But you should first consider what your team is struggling with and then what tools could possibly be helpful.
For example, teams spending the majority of their time logging lead information in spreadsheets should consider a CRM. Salespeople that struggle with internal communication and following up with leads should look into a solution like RingCentral.
In short, look at your most pressing problems first. Talk to your coworkers and figure out your needs as a group.
Assess your current sales software stack
You're probably already using a whole slew of tools already, right?
Don't assume that you need to uninstall everything or start from scratch when it comes to your sales software. Instead, look at what you're already paying for and using.
When searching for new tools, think about the tools that are staples of your sales team that you don't want to replace. For example, if you're already comfortable with Salesforce, you probably shouldn't just change CRMs on a whim.
This also means looking at your existing sales tools' integrations and features. For example, if one tool can do multiple things, like let you make video conference calls, call prospects, and communicate with your team, then you might want to look into that as opposed to paying for three separate tools:
Pro-tip:
Ideally, you want your business's software stack to be as lean as possible. This results in less time wasted toggling between tools—and less money wasted on multiple subscription fees for different apps.
Consider the learning curve involved with a new tool
Piggybacking on the last point, bear in mind that every piece of sales software has some sort of learning curve involved.
The tools above are all friendly to small businesses and are straightforward to get started with. That said, it does take time before any given tool feels second nature to your team.
And on that note, don't try to adopt a bunch of different tools at once. Instead, take it one software at a time to give your sales team a chance to onboard effectively. Taking a slow and steady approach to software adoption also keeps you from blowing out your budget.
When in doubt, get a demo
Thankfully, most sales tools offer some sort of demo or freemium plan for small businesses. If you're torn between two tools, give each of them a test drive and make a decision from there.

What sales software should you look into?
Good question! Below is a breakdown of fourteen tools that you should consider for your software stack. Note that all of these tools are budget-friendly for small businesses (including a few free and freemium solutions).
1. PandaDoc
Modern sales teams should do everything in their power to be able to close deals virtually rather than face-to-face.
Food for thought: e-signatures account for hundreds of millions of dollars in transactions per year. So, the faster you're able to whip up digital contracts and proposals, the better.
PandaDoc's platform allows you to create professional documents from scratch. Drag-and-drop functionality makes it easy to put together proposal templates and other essential docs. Rather than you having to scramble last-minute to get a contract to your client, PandaDoc can do the heavy lifting for you:
By their own estimation, tools like PandaDoc speed up closing time by 28% and eliminate 65% of needless admin work. Given how long the journey from prospect to customer can take, this sort of sales software is invaluable to small businesses.
Pricing: Free e-sign available; paid plans for individuals start at $13/mo; upgraded business plan with premium features is $59/mo per user.
2. HubSpot CRM
CRM (customer relationship management) platforms represent some of the fastest-growing sales solutions for small businesses.
Basically, a CRM allows you to keep all of the essential details of your prospects and leads in one place. This includes details about your history of communication (think: calls, emails), internal notes, date of last contact, and so on.
Having all of these details centralized makes it easier to hand leads off to other salespeople or decide what needs to happen next to close them.
For small businesses totally new to CRMs, Hubspot's platform is user-friendly and integrates with other tools (like RingCentral!) and is a bit less "busy" compared to platforms such as Salesforce:
Providing a comprehensive overview of your customers' histories and activities, HubSpot's CRM is a great introduction to sales software and automation if you've been stuck living in spreadsheets.
Pricing: Free; premium plans with additional marketing features start at $50/mo per user.
3. Mailshake
Mailshake is a sales engagement platform that helps salespeople create highly personalized outreach cadences using email (via your personal email account), social, and phone.
With Mailshake, you can upload a list of prospects with personalization fields like name, links to social profiles, phone numbers, and even fully personalized sentences and paragraphs.
In the platform, you build an outreach cadence that incorporates those personalized fields in email, social message, and call script copy, and set up time delays between each touchpoint. Once you publish the cadence, the messages are sent automatically according to your campaign settings and can be paused automatically if a recipient replies or clicks a link.
When a lead engages with your outreach, you can reply to them directly from Mailshake, or through your own email. You can also track your campaign's performance in real-time, and see which messages in your cadence have the best engagement.
Hey, we put ourselves on top of our own list for a reason (and it's not totally biased)!
Having a good communication tool is crucial for sales today, especially given the rise of remote work and distributed teams. From running effective sales meetings with your team to going back and forth with your leads, a dedicated communications platform is a must-have.
For starters, RingCentral is a powerhouse when it comes to communicating internally with your sales team.
Within our platform, you can ask questions, share documents, and have virtual meetings with each other in an instant. This is essential for onboarding new salespeople and making sure that everyone on your team has the answers and resources they need to close deals. If someone has a question or needs a contract or proposal, it's only a click away:
Need screen sharing software for your sales demos? RingCentral comes with screen sharing so you don't need to pay for a separate screen sharing tool. You can have video meetings while sharing your screen and important documents to seamlessly run sales demos with your prospects.
Plus, video meetings are perfect for getting some facetime in and building relationships with customers:
Pro-tip:
You can also use RingCentral to save time and get in touch with people faster while prospecting. For example, features such as click to call let you instantly call leads directly from your browser on your computer.
Integrating with most major sales software (including many of the tools on this list), RingCentral represents an all-in-one platform for meetings, calls, and communication with your customers and sales team alike.
Pricing: "Essentials" plan starts at $20/mo billed annually; full product demo available.
---
🤯 On top of all this, RingCentral could save you up to $400 an hour in IT costs. 
Explore the RingCentral Advantage for small businesses:
💰 You can also use this calculator to see roughly how much your business could save by using RingCentral to support your team's communications with clients or customers, and each other.
---
5. Tenfold
Piggybacking on the importance of communicating with clients, sales teams need to figure out ways to streamline their communication. After all, reps today are talking with customers via calls, SMS, email, and video chat (to name a few).
That's where tools like Tenfold can help. Their platform automatically logs any and all of your customer communication in your CRM without any manual note-taking. Whether you just hopped off a call or wrote a follow-up email, Tenfold captures every interaction by default.
Additional features such as natural language processing are huge time-savers for sales reps. For example, if the platform detects phrases such as "follow-up" or "tomorrow" in your communication, it automatically creates relevant tasks in your schedule automatically. When you're bouncing from call to call, these sorts of automated tasks can really help you win back time.
Pricing: Contact for pricing details.
6. Mailchimp
Fact: eight-in-ten prospects prefer to communicate via email, at least during the early stages of a deal.
Beyond manually following up with prospects, email automation tools are useful at giving people a "nudge" to keep them engaged.
For example, you can use email autoresponders to check-in with prospects or follow-up with leads that haven't been in contact. You can also use offer emails to cross-sell and upsell your current customers without having to reach out directly.
Mailchimp is one of the biggest names in email marketing and is particularly popular among small businesses. Their free platform includes automated follow-ups, surveys, and pre-built email marketing templates that allow you to reach out to hundreds or thousands of customers at once.
Additionally, Mailchimp offers reporting to help you assess the effectiveness of your email campaigns when it comes to opens and click-throughs:
Pricing: Free plan available for up to 2,000 subscribers; small business plans available at $10/mo and $15/mo with various features.
7. AWeber
Another email automation platform, Aweber is notable for its landing pages and email capture capabilities that sync directly with your website. If you're interested and growing your list of leads and prospects via inbound marketing campaigns (think: courses, eBooks), look no further.
For example, you can put together a welcome series that serves as an introduction to your business prior to conducting a sales call directly. Aweber enables you to build out detailed, behavior-based email campaigns that engage leads automatically.
Pricing: $19/mo for 500 subscribers; pricing tiers are based on number of subscribers.
8. Clearbit Connect
Did you know that sales reps spend about 20% of their time independently researching and preparing for calls with prospects?
Again, anything that allows you to win back valuable time in your schedule is a point in your favor.
Tools like Clearbit's Chrome Extension allow you to search for prospects based on their company name, verifying their email address and social profiles prior to outreach.
This is a prime way to cross-reference your current lead data, ensuring that you're getting in touch with the right people and that your emails don't kick back to you. Additionally, you might discover additional details through their social profiles (think: mutual connections) which make it easier to personalize your outreach. With Clearbit, all of this can be done without having to conduct endless Google searches.
Pricing: Free Google Chrome extension; full platform pricing is based on list size.
9. Yesware
Yesware is an email sales software that's designed specifically for, you guessed it, salespeople. The platform not only notifies you when your emails are opened by prospects, but also provides a detailed breakdown of how people behave after-the-fact. For example, you can see how long a lead spends viewing a document or pitch deck.
Based on this information, you can better understand how engaged a lead is and what your next steps should be to continue nurturing them.
Pricing: $15/mo per user.
10. Dropbox
It's well-documented that file-sharing makes your team more productive.
Dropbox is the ultimate file-sharing solution, providing both online and online access to essential documents (think: contracts, proposals) for sales teams and clients alike.
The platform allows you to keep track of who's viewed any given document, ensuring that you can continue moving the sales process along once you've sent something over. Sales-specific features such as custom pitch decks and the ability to finalize contracts are also useful to teams looking to close deals digitally.
Pricing: $15/mo per user.
11. GMass
The common thread between pretty much every piece of sales software on this list? Saving time.
GMass is no different in that department. The platform offers simple, straightforward mass email templates that allow you to speed up your prospecting efforts directly in Gmail. Rather than conduct outreach one-by-one, you can send your emails from a single template and save hours of time in the process:
Tracking clicks and opens, GMass platform is a great place to experiment with email subject lines to figure out which sort of headlines resonate with cold prospects.
Pricing: Free Google Chrome extension allows you to send 50 emails every 24 hours; $9/mo per user for unlimited use.
12. Formstack
As noted earlier, researching prospects can be a time-sink.
And so the more information you're able to gather prior to outreach, the better.
Formstack lets you put together eye-popping lead intake forms to break down the essential details of your leads whenever they opt in or ask questions. Perfect for your website or sharing via email, you can customize your forms to learn everything you need to know in an instant.
Pricing: $19/mo per user.
13. Google Workspace
Most sales teams are already using Google Workspace in some form already.
If you're on a shoestring budget, consider the various ways to use Google Workspace to supplement your existing sale software such as:
Docs for sharing collaborative documents (think: pitches or contracts)
Drive for sharing files, presentations, and documents
Slides for creating, sharing, editing customer presentations
Gmail and Calendar to keep track of your emails, contacts, and sales messages
Effective sales software doesn't have to break the bank. Free tools in Google Workspace are a solid starting point if you're strapped for cash or need a stop-gap solution to collaborate with your team.
Pricing: Free!
14. Pipedrive
Pipedrive is sales and CRM software designed to be easy to use and hassle-free. With Pipedrive, you can manage leads and sales across the team, track communication such as emails and call history, and automate many repetitive tasks like data entry.
Crucially, you can also generate detailed reports to gain further insight into your company's performance and goals. This can also be beneficial when it comes to sales forecasting, as you can start to highlight and establish buying patterns. 

The layout is simple yet effective, with a very activity-focused view and actionable information for each task. 
Pricing: Free trial available. Then $12.50 per user, per month for the essential plan. Enterprise plan with additional features such as increased customer support is $99 per user, per month.
15. Zoho
If you're after sales software with plenty of integrations, then Zoho is a solid choice. It has over 45 integrated applications, including tools to help with finance, social media, marketing, and HR. Its advanced security features mean that you'll feel safe handling customer data and credit card information through the app.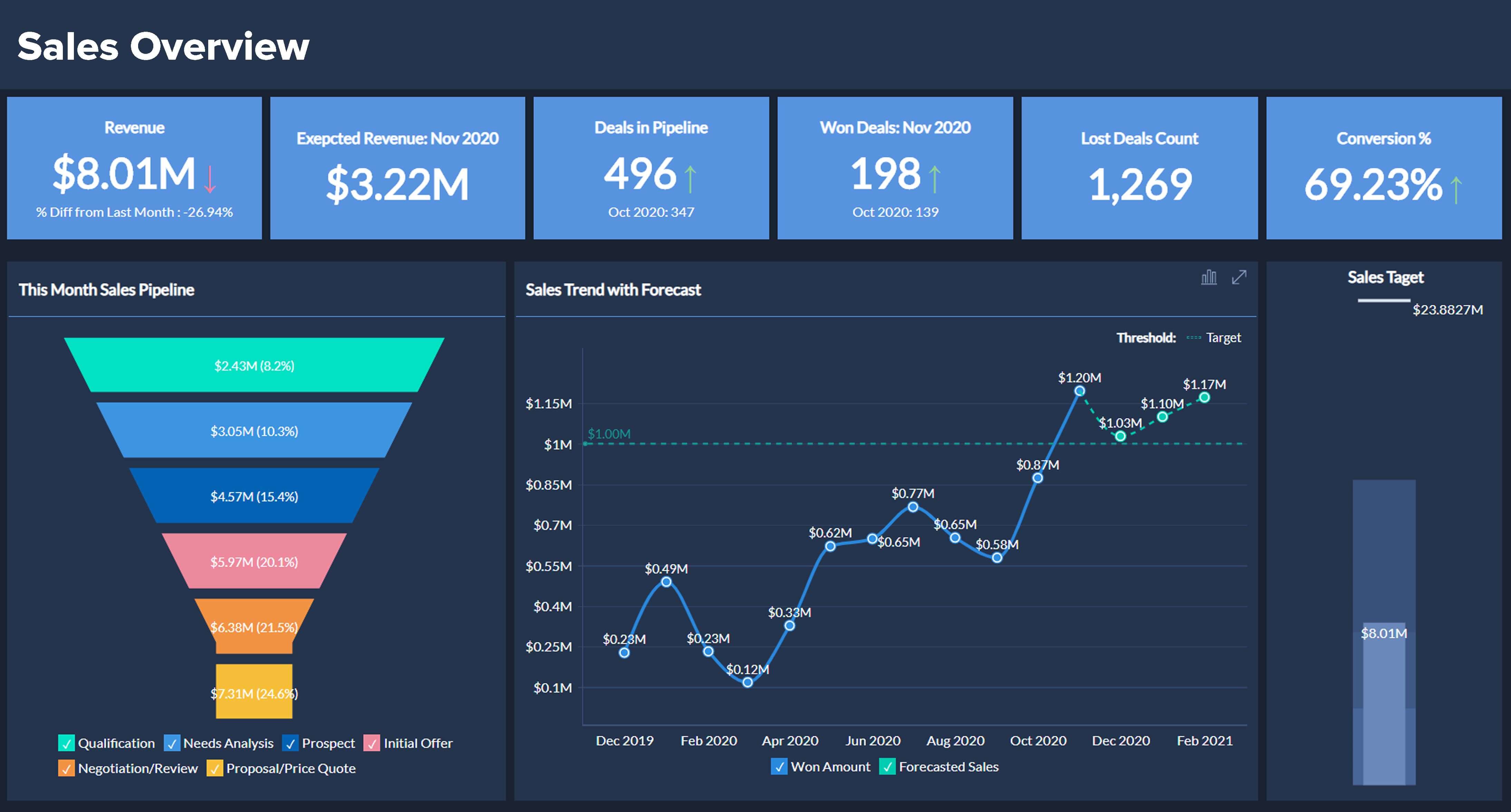 It's an all-in-one office tool kit, which can be useful for startups and large businesses alike. You can use this platform to track KPIs and other sales metrics to ensure you're on track with business goals. 
Plus, there's an email marketing feature for tracking campaigns.
16. Salesflare
Small businesses lose out on an enormous number of closed deals everyday because their customer follow-up processes are hindered by outdated databases. This is because most CRM systems rely on the agents themselves to update customer information – meaning some opportunities fall between the cracks, and prospects lose interest at best or become frustrated at most.
Salesflare is a CRM that keeps itself up-to-date, sourcing data from your email inbox, calendar, phone, social media, company databases, and email and web tracking. Aside from automatically logging and organizing customer information (like their phone number and when they last visited your website), it also provides you with a clear, organized overview of opportunities that helps you prioritize follow-ups more effectively. Plus, you can access it directly from Gmail or Outlook.
Other features include shared documentation that allow multiple agents to track who else in their organization has been in contact with a customer – and what they've talked about – and a REST API developers can use to integrate Salesflare into their systems.
Pricing: Free trial available, Growth plan starts at $29/person/month if you choose to pay annually.
17. ContactOut
If you're looking for an email address for your cold outreach, chances are ContactOut has it. With access to over one billion emails, the company claims to have the largest database of business professionals in the West. And with their AI system, they reported that each email is accurate with a 99% success rate.
For those looking for an integrated CRM system that allows you to access contacts from a dashboard, organize them into lists, and more, ContactOut might be the perfect solution. Plus, their prices are pretty reasonable. So if you're in need of some serious email help, don't hesitate to give ContactOut a try.
Pricing: Free trial available, Personal plan starts at $29/person/month.
What does your current sales software stack look like?
If you're eager to get started with some new sales tools, you're in the right place!
Any of the options above are perfect for small businesses looking to save time and stay connected to more customers.
Regardless of your business's size or goals, communication should be a top priority for sales teams today. If you need an all-in-one communication platform, check out a demo of RingCentral to see it in action.
Originally published Mar 16, 2020, updated Sep 26, 2022