Today, we can get the information we need at the click of a button thanks to cloud technologies. The cloud enables the fast and easy exchange of data. Customers expect this speed from contact centers, too. That's why transitioning from an on-premise to cloud contact center is crucial.
Read on to learn what challenges you can expect in moving to a cloud contact center, and how to overcome those obstacles.
The biggest challenge: traditional IT structures
The biggest obstacle you'll face by far is traditional IT structures. In many organizations, IT roles are still siloed. You'll see network engineers in charge of networks, system administrators responsible for hardware, and database architects overseeing organization and access to those repositories.
[ebook-download title="Webinar: Transforming a toxic call center environment" link="https://go.ringcentral.com/transforming-a-toxic-call-center-environment-registration.html" cta-text="Hear the webinar" src="https://www.ringcentral.com/us/en/blog/wp-content/uploads/2020/10/WFH-questions.png"]
Here's the problem: because of the silos, IT personnel are focused on their own tasks. They're not looking at the bigger picture of how IT can create value for the entire organization.
Spotlight on the supervisor: Webinar series featuring Blake Morgan
Moving from traditional IT structures to a cloud contact center
The challenge of traditional IT structures isn't just about the way the IT department has been set up; it represents an entrenched mindset that silos are acceptable. How do you overcome that?
Building a business case for a cloud contact center should focus on the following points:
The current technology powering your contact center may be reaching the end of its life, and replacing it is too expensive.
It's difficult to expand an on-premise contact center, whereas a cloud scales up or down easily.
You're moving from a capital cost structure to an operational cost structure.
Cloud technologies provide agility and speed, so contact center agents can quickly and accurately answer customers' questions.
Choosing the right cloud contact center technology
Once you've convinced decision-makers that shifting to a cloud contact center is the right move, the next step is choosing the right cloud contact center technology.
There are a number of cloud contact center solution vendors out there, so how do you choose the right one? It's important to remember that not every vendor will offer you the right mix of features and capabilities. To understand which vendor is right for you, assess your current contact center:
Do you want omnichannel capabilities, so that customers can reach you through text, chat, social media, and phone?
Which applications do you want to integrate into the cloud contact center platform?
Do you need analytics to gauge agent performance?
Will reporting capabilities enable you to make better choices?
Would it enhance your contact center if you were able to route customers to agents based on experience and availability?
Do you need the ability to minimize downtime and long hold times for customers?
Is there a need for supervisor access tools, so you can course-correct agents when they're interacting with customers?
Do your customers want self-service capabilities?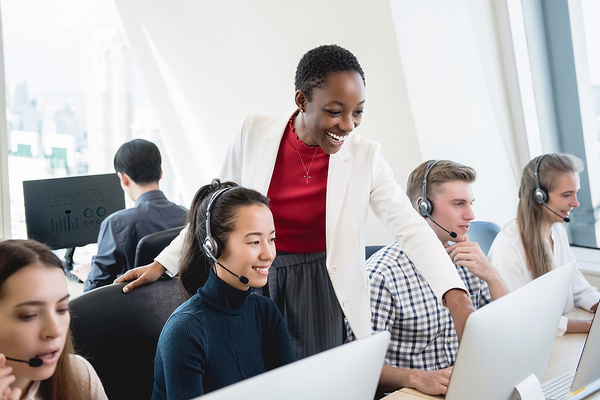 Understand the customer journey
You might be ready to move to the cloud, and your customers might be waiting for your shift, too. However, you need to ensure that your customers have a good experience as you move to a cloud contact center.
To improve the customer journey, you have to gain a deep understanding of what your customers go through when they reach your contact center. Do they start off in self-service (if the option is available), and then wind up needing assistance by the end of the interaction? If "yes," why is that the case? Your customers as well as your agents are a valuable source of information here.
Setting a roadmap for the future
Another challenge in shifting your contact center to the cloud is deciding what success looks like for the contact center. How can you tell that it's significantly improved your contact center operations, or if customers are more satisfied as a result of the move?
The answer lies in choosing the right metrics. For a start, KPIs have to align with business objectives; you might not want to cut down on average-time-per-call if you're trying to upsell services. On the other hand, there are some metrics that make sense for contact centers in a variety of industries:
Average speed of answer
Average wait time
Service level response time
First contact resolution
Abandoned calls/contacts
Conversion rate
Customer satisfaction rate
Communicate all changes clearly
As you're transitioning to a cloud contact center, it's crucial to keep everyone in your organization up-to-date on what steps you're taking (and in turn, what they need to do).
Clear, frequent communication with everyone who's involved in the contact center is vital. It ensures that nothing falls through the cracks. When everyone knows what's happening next and what their role is in this new contact center, there's a much greater chance of success. External communication matters, too. You don't want to confuse your customers as you introduce a new contact center model. Explain to them what to expect and when.
Don't forget about post-implementation
Once you've implemented your cloud contact center solution, there's still work to be done. You have to make sure your agents are fully trained to use the solution, and you must also educate your customers about the new contact center (especially how much easier it is to connect with you, and how much faster it will be to solve their problems).
This is also when the aforementioned metrics will come into play. You'll need to measure your contact center's performance to see what needs fine-tuning. Are agents able to resolve issues quickly because they have the right tools at their disposal? Are customers able to solve their problem the first time they reach out to the contact center?
Making the Case: The Top 10 reasons to move your contact center to the cloud
Originally published Oct 27, 2020, updated Jan 30, 2023