As a contact center supervisor, your job is to motivate, coach, and manage agents. Yet, this role is more challenging than ever before. With the rise of the remote workforce, how can you improve your leadership skills so that agents are productive and supported in their roles, and customers have a positive experience?
Tip 1: Choose a contact center solution that improves the agent experience and the customer experience
In the spring of 2020, governments issued stay-at-home orders to prevent the spread of COVID-19. Thousands of agents began working from home; T-Mobile made 12,000 of its agents remote.
It might seem that remote agents would be a recipe for disaster – supervisors can't walk the floor or talk one-on-one with agents who need it. Yet, in the case of T-Mobile, the transition for agents was successful. In fact, it led to an increase in NPS scores, a measure of positive customer experience.
A positive experience for agents and customers alike is possible with the right cloud contact center solution. The cloud enables agents to work remotely, and it also allows them to serve customers on multiple channels. Those capabilities create a better customer experience because they ensure business continuity for the contact center and they offer flexibility and freedom so customers can connect with your brand how they want.
Give your contact center agents the tools they need to communicate with your customers.
Tip 2: Improve your emotional intelligence
As a contact center supervisor, it should be one of your goals to increase your emotional intelligence when working with your teams of agents. Emotional intelligence (also known as EQ) is about being able to regulate your emotions as well as understand the emotions of others. It's also about being able to do or say the right thing at the right time; if, for example, an employee comes to you with news that his mother has passed away, the best response would be, "I'm so sorry for your loss. Focus on your family right now and take bereavement leave." Asking about when the employee is coming back to work is insensitive.
Exercising your EQ can be difficult when managing remote agents. The lack of face-to-face encounters means you can't read their emotions as well. That's where a cloud contact center solution that integrates with a unified communications platform comes in. It offers such features as video conferencing, so you have the opportunity for face-to-face meetings, even if you can't be in the same room as your team of agents. Setting up video conferences (either on a regular or ad hoc basis) gives you an opportunity to connect with your agents so they feel less isolated.
---
👩‍💼 💫 Teamwork makes the dream work 💫 👨‍💼
The key to building a customer-centric team: Enterprise edition eBook
---
Tip 3: Be consistently available to remote staff
Another way to ensure a better employee experience is to make yourself consistently available to remote staff. Again, this might sound challenging when you're not in the same physical location. However, that's where the right cloud contact center solution can help.
A robust cloud contact center solution features collaboration tools that enable supervisors to connect with agents. Agents could send chat messages to supervisors, emails, or schedule video calls. Having those communication channels open and available lets agents know you're there for them. Suppose your agent needs help with a particularly difficult call? Sending a quick chat your way can alert you to chime in with the needed help.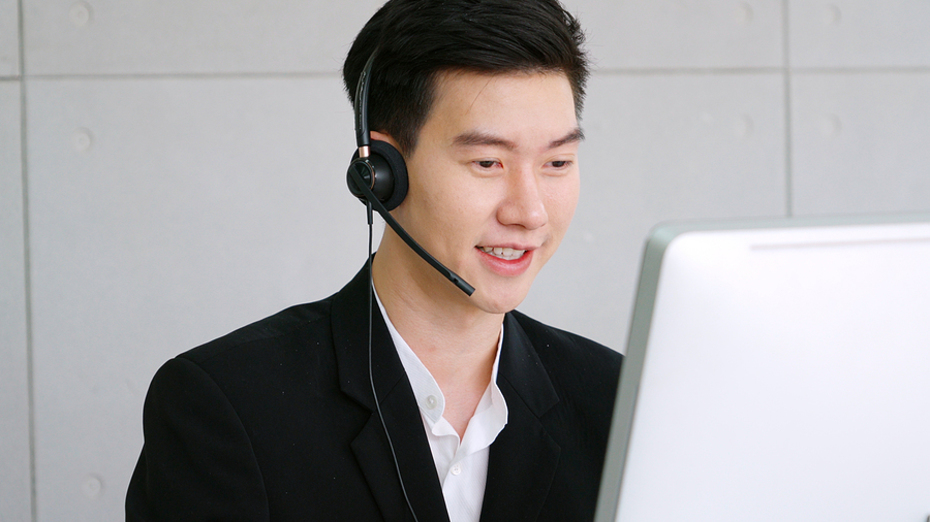 Tip 4: Build strong relationships with agents
Part of being an effective manager is building a good relationship with agents. What does that mean, and what does it look like?
A strong relationship with agents is one in which agents feel comfortable coming to the supervisor for help, and the supervisor provides constructive criticism that guides the agents toward better performance.
It's also about supervisors having the ability to coach agents to improve. The analytics that cloud contact center solutions provide, including the ability to monitor text and phone interactions, give supervisors the information they need to help their agents. Investing in your team by actively coaching agents helps agents invest more fully in their jobs and reduces agent churn.
Tip 5: Foster a positive contact center culture
As a supervisor, you play a crucial role in fostering a positive contact center culture. It might sound like an impossible task when your agents work from home, but it isn't.
One of the building blocks for a positive work culture is collaboration. When employees can reach out to internal experts to get the answers they need, they can provide better customer service. Research from McKinsey shows that when agents collaborate effectively with other teams, supervisors see a productivity boost of 20% to 30%.
Cloud contact center solutions also provide workforce management tools, so employees don't feel overworked or bored because they're idle. Instead, they're working reasonable hours and handling work that challenges and inspires.
Tip 6: Make sure that agents have rewarding work
No one wants to do work that's meaningless. Supervisors can help ensure agents have meaningful work that plays to agents' strengths (and helps them build new skills).
With a cloud contact center solution, supervisors can configure software so that calls are routed to the right agent. The "right" agent is the one who has the experience and knowledge to answer a customer query. In that way, agents won't feel pressured to deal with an issue with which they're unfamiliar.
There are also customer queries that are repetitive, and answering them could be automated. Again, cloud contact center solutions solve that problem by offering customers self-service options. Rather than wait on hold to check the status of an order, a customer could use a chatbot or an IVR system that's integrated with backend databases and applications. That way, agents are more likely to field more complex questions that make use of their customer service skills and their time.
RingCentral's cloud contact solution helps you improve your contact center leadership skills
RingCentral's cloud contact solution makes it easy to connect with your remote workforce. In addition, analytics and monitoring capabilities allow you to evaluate and course-correct agents' performance, so they deliver the best possible customer experience. To learn more about RingCentral's cloud contact center solution, get a demo here.
Originally published Feb 02, 2021, updated Dec 30, 2022