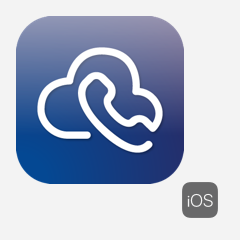 BT Cloud Phone for iOS for BT Cloud Work
Talk, send, and receive faxes; host or join audio conferences; and view the availability of all your contacts from anywhere.
iOS Phone: BT Cloud Work app integration for BT Cloud Work
Connect employees with one cloud-based phone and fax system, allowing them to work virtually anywhere, and simplify how customers reach your business.
Use BT Cloud Phone Mobile app to manage your phone system directly from your select smartphone and take your business calls, voice messages, SMS texts, and faxes anywhere. Easily separate your business communications from your personal communications on the same device.
Detailed Description:
Use BT Cloud Phone's Mobile App to:
Enable voice, fax and SMS on a single number
Set-up and manage greetings and call handling preferences, right from your select smartphone
Direct calls to any phone, mobile, office or home number
Get visual voicemail for your business calls, separate from your personal messages
View and forward faxes
Order desktop IP phones preconfigured and Plug & Ring ready for your office workers
Display your business phone number as your Caller ID when making calls
Transfer live calls between mobile and desk phones
Make and receive calls over WiFi
Make HD Video Conference calls with Business Connect Meetings for Premium+ Edition; share your screen and files with others
With no setup fees or complex system hardware required, plus instant activation,
Business Connect Mobile App is available in three Editions - Standard, Premium and Premium+ - and is billed conveniently to your Business Connect wireless bill.
Original release date: 2017-12-17
Requirements
Requires an existing BT Cloud Phone account. Some mobile app features are available only with select Business Connect plans.
IOS Users :Requires iOS 7.0 or later. Compatible with iPhone, iPad, and iPod touch.